Top 5 Beaches Near Santo Domingo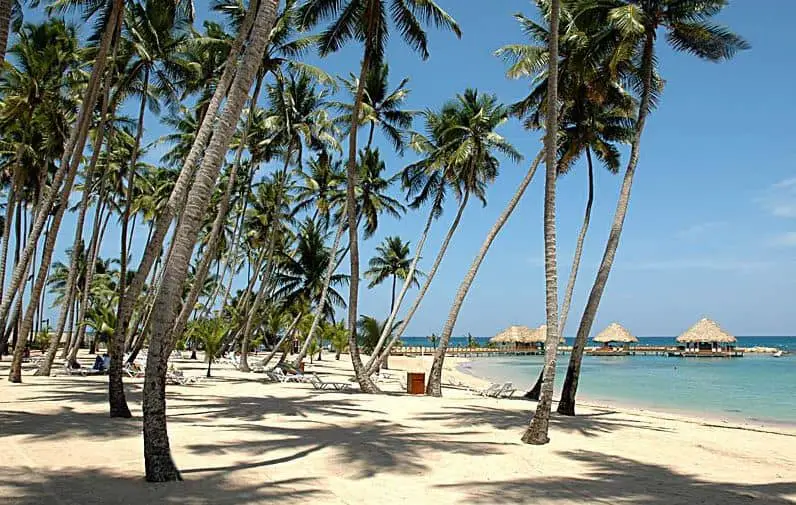 Being the capital and the largest city of the Dominican Republic, Santo Domingo has no beaches, although it has some tourist attractions and a beautiful boardwalk. Anyway, because the Dominican Republic is literally an island, one of the advantages is that everything is practically nearby, and this is the case with the beaches.
In case you visit the city of Santo Domingo, and you need to visit beaches, you do not need to go far inland, in fact, there are beautiful beaches very close to Santo Domingo that you can easily reach by private or public transportation.
Don't think that I am going to describe a perfect Caribbean paradise, these public beaches have some aspects that may not be to the liking of some people, so I will also mention some elements that I find negative of each beach.
Here is a list of the beaches closest to the city of Santo Domingo, these beaches have both public and private sections, they are very popular and very visited by both tourists and locals.
1-Boca Chica
Boca Chica beach is located 39 kilometers from Santo Domingo, 47 minutes by car.
If you ask me, this must be the most popular beach near Santo Domingo, it is very visited by locals, it is a very quiet beach, I mean water, so much so that it looks like a swimming pool.
This beach is also known as the beach of the city of Santo Domingo, located in the bay of San Andres in the Dominican Republic.
Apart from the beach, you can enjoy gastronomy and a great place to sail around the area and discover the beauty of the tropical coast of Santo Domingo from the sea.
On the downside of this beach, I must emphasize, that being a public and very popular beach, it is usually overcrowded, especially on weekends, also, previously there was no control with street vendors that can become very intense, although according to what I have heard, lately many regulations have been imposed and things have improved quite a bit.
It can be a beach with a lot of music and a lot of noise at times.
In Boca chica there are also pink areas on the beach, you should avoid them because there are usually sea urchins, and the rocks can also hurt your feet.
2- Guayacanes Beach
Guayacanes beach is located 56 kilometers from Santo Domingo, 54 minutes by car.
Located a short distance from Playa Caribe, Playa Guayacanes is a modest beach of calm waters and fine sands that is rarely visited. The town of Juan Dolio and its well-known beach is only a couple of kilometers away, where you can do some shopping in its gift stores.
In Guayacanes beach there are a lot of parties and activities which are attended by large numbers of people when there are no activities is a little less crowded but depending on the tastes can be more enjoyable.
The area has several restaurants, hotels, bars, fast-food vendors, and a very large parking lot right at the entrance of the beach.
3- Juan Dolio Beach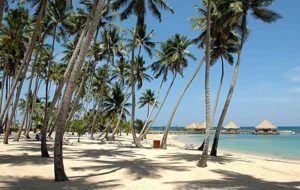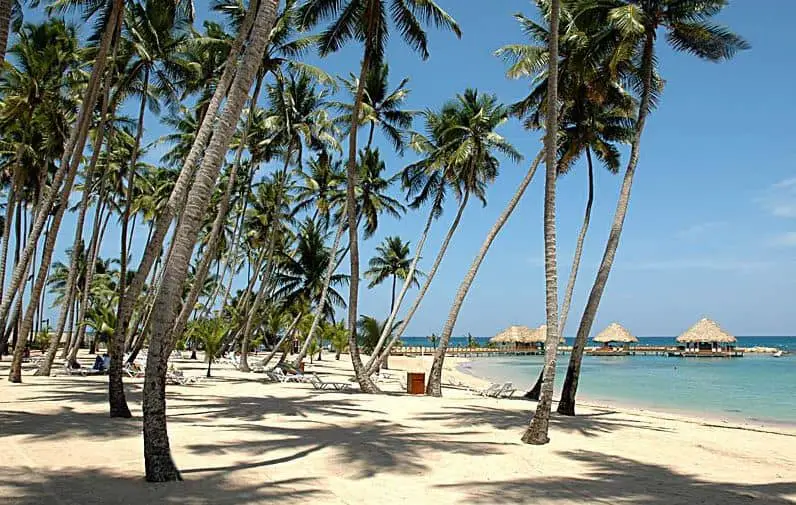 Juan Dolio beach is located 71 kilometers from Santo Domingo, one hour by car.
A beautiful beach with 10 kilometers of white sand, which will take you more than an hour to walk from one end to the other. It has quiet areas and wave zones and extends along the main road of Juan Dolio.
The beach has two entrances, one at the entrance of the town and the other, further down the boulevard, next to the Hemingway Club. The beach has a public section, but at the second entrance, you are not allowed to enter with food, at least this is what I noticed on my last visit to this beach.
Juan Dolio Beach is not as famous as the beach of the tourist town of Boca Chica for example, but it seems more natural and virgin.
Coconut trees grow on the sand, the sea is turquoise and there is no big hotel, I prefer this beach for that reason because it can be less crowded than Boca Chica, quieter, there are not so many vendors in the area.
It's not that I have anything against street vendors, God bless their business, I just find them a bit annoying at times.
4- Najayo Beach
Najayo Beach is located 34 kilometers from Santo Domingo, one hour by car.
Playa Najayo is placed on the Caribbean coast of the Dominican Republic, to get to Najayo you can go through San Cristobal or to Haina and Nigua which is the road along the coast, but the latter is of little interest as it goes through industrial areas, it is best to go through San Cristobal. Playa Najayo has 2 beaches, a small one.
Najayo Beach, like Boca Chica, being a public beach, is usually overcrowded, especially on holidays and weekends.
It is a beautiful beach, on the negative side, if you really don't like beaches overcrowded with people you should avoid Najayo on holidays or weekends, they also tend to play loud music.
The sand of the beach is not so fine, and also, because it is a public beach with a large number of people, it tends to get very dirty, although a lot of work is done to keep the beach clean.
In the center area of the beach some stones may appear, so choose the sides where there are no stones.
You should be careful in the rocky areas of the beach, it is possible that there are sea urchins, the same advice applies to Boca Chica.
5- Palenque Beach
Palenque Beach is located 55 kilometers from Santo Domingo, one hour and seven minutes by car.
Playa Palenque is in the opposite direction to the beaches I listed, with the exception of Playa Najayo, so I recommend you visit the beaches I mentioned later first because you could visit them all in one day.
Although it is not one of the most popular destinations for international tourists, Palenque beach is visited by thousands of visitors from nearby communities.
It is a quiet beach with a family atmosphere, they play ambient music, several places where you can buy food including fish is the typical Caribbean beach with good vibes and a healthy public environment.
On the negative side, the sand of Palenque beach is much darker than the other beaches and can have many stones in some parts of the shore, also, the beach can have a little stronger waves than the others.