Cotubanama National Park Guide (Map Included)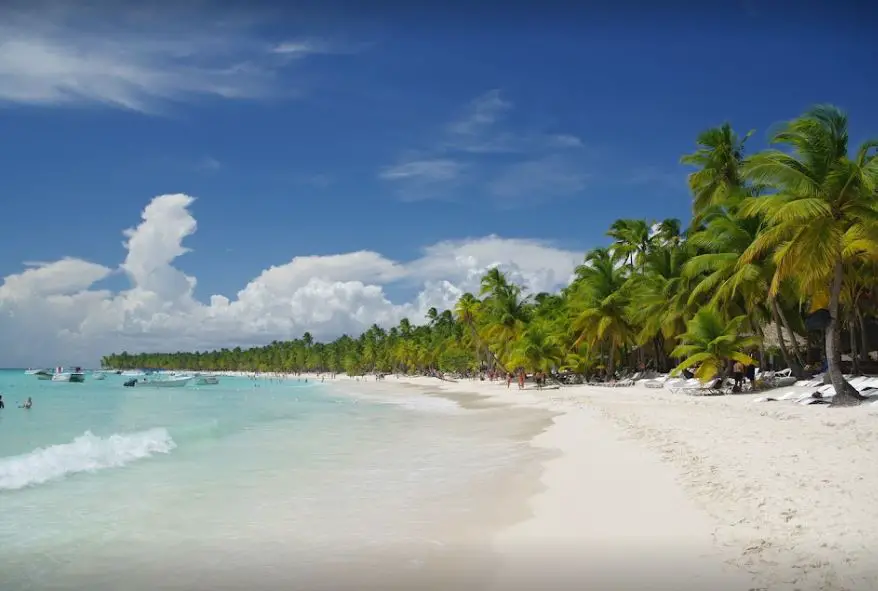 If you like nature, beaches with crystal clear waters, a good sunny Caribbean climate and being in contact with great biodiversity that does not represent any danger, no doubt Cotubanama Park has all that and much more, Cotubanama Park is one of the most incredible natural tourist attractions in the Dominican Republic.
Cotubanamá National Park, between La Romana and La Altagracia, is identified by its excellent beaches, climatic conditions, and pre-Hispanic cultural values that are a permanent attraction for ecological tourism.
Cotubanamá National Park is the most visited and profitable protected area in the Dominican Republic. It receives millions of visitors a year, having among its main attractions the cave of the same name, where visitors can appreciate pre-Columbian rock art.
This is the most studied of the country's national parks, with not only beauty but also great diversity, archeological richness, and deep crystalline water bodies.
Its route includes Saona Island, the Catuano Channel, Punta Aljibe and Punta Balajanamá. Punta Aljibe and Punta Balajú, Calderas Bay and the paradisiacal beach of Piscina Natural.
The route from the area of El Peñón includes an iguana refuge, a wooded area in the surroundings of Guaraguao and Las Palmillas, with coconut groves, cliffs and nature trails, however, at this point the entrance to the public is limited.
A beautiful little beach called "La piscina natural" (the natural pool), due to its crystalline waters, where visitors leave their boats to enjoy a cool dip before crossing the bay of Las Calderas and nearby a school of fish, continuing to Catalinita Island, until arriving at Saona.
Location of Cotubanama Park
Located in the southeast of the country, between the provinces of La Romana and Higüey, this park has a territorial extension of 420 square kilometers, 310 of which belong to the trapezoid shape and the remaining 110 are covered by the Saona, a unique reserve where about 400 people live.
The park is also located 4 kilometers away from Bayahibe, in the area known as La Romana-Bayahibe and is characterized by beaches of fine white sand and crystal-clear, transparent waters.
Nature lovers can appreciate in the area of Las Calderas during the tour the Fish Bank, which represents a great potential for marine reproduction, as well as the nesting of green turtles and hawksbill turtles, lambí, which have as refuge wide extensions of red and white mangroves.
The latter are part of some 572 species of flora, 484 of which are native, 53 endemic and 35 introduced, existing in the reserve.
Where are the best beaches in Cotubanama Park?
The area of the park where we will find the best beaches is known as Catuano Strait on Saona Island, within the park itself. This coastal area is entirely covered by the Caribbean Sea.
Catalina Island is another area of the park where you can enjoy great beaches.
Here you can enjoy great days at the beach and practice all kinds of water sports or simply relax while sunbathing and swimming in spectacular waters. Can you ask for more?
What can be brought to Cotubanama Park?
You can bring basketballs or volleyballs, avoid flip-flops as footwear, you can bring mosquito repellent, you will need it because it is a humid natural area and there may be mosquitoes.
Bottled water, you can bring a flashlight in case you want to visit the caves, swimwear and sunscreen.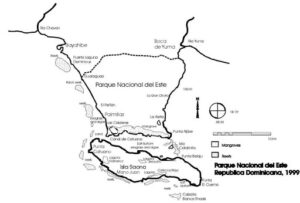 Great variety of flora and fauna in Cotubanamá
Another of the great attractions and why you should visit Cotubanamá National Park is its great variety of flora and fauna.
It is estimated that there are about 500 different species of plants in the park and more than 100 types of birds as well as sea turtles, dolphins and manatees.
You can also find several exotic species in danger of extinction such as the Rhinoceros Iguana or the manatee, a marine mammal.
To cite just one example, Saona Island is an important nesting site for sea turtles.
Regarding its vegetation, in Cotubanamá National Park we can appreciate areas of Tropical Dry Forest, another of Tropical Humid Forest and a transition zone.
Among its most characteristic species you can find the bayahonda, the beach grape, the mahogany or the spectacular giant cactus that will make you feel like you are on another planet.
What activities can be done at Cotubanama Park?
Cotubanama is the perfect place for those who are looking for an adventure without having to travel far, offering sustainable and nature-friendly activities such as ziplining, horseback riding, garden climbing, Segway circuit, paintball, bungee trampoline, flight simulators, and a mountain bike track.
Hiking, diving, and snorkeling in Cotubanama Park
Although you have several organized tours available in the area, a great tip is to take advantage of your stay to take a hiking route: it is the best way to enjoy the nature of the area in all its splendor.
You can feel like a real adventurer visiting its various caves and some springs. In many of the caves you can find samples of cave art, with the cave of Jose Maria, the Ramoncito or the Puente, to name just a few.
If you like diving and snorkeling, Cotubanamá National Park is an ideal place for it. The visibility of its waters is excellent and you can not only enjoy the sport. You can do it with the incentive of being able to contemplate a very abundant marine life as well as spectacular coral reefs.
Prohibitions in Cotubanama Park
It is prohibited to bring firearms or bladed weapons into the park.
Do not visit the protected area with music equipment.
Respect the speed and rules for boat operation set by the park administration; the visitor does not establish the guidelines on this matter.
Do not scare the animals and birds or offer them food.
Before smoking, consult with the guide or park staff; this practice is prohibited in most public protected areas.
You may observe as much as possible without removing any element, be it flora, fauna, or any object, whether of terrestrial or marine origin, no matter how unimportant it may seem.
Main sites of interest to visit in Cotubanama Park
A walk through the area allows the visitor to get in touch with the following attractions.
Caves
There you can observe cave systems, such as the José María cave, where you can see pictographs made by the aborigines.
Las Palmillas Natural Pool
This place is paradisiacal and unique, where visitors stop and turn off the boat that transports them to take a bath in its crystalline waters.
Catuano Beach
It is in the place of the same name, with tall coconut trees, fine white sand and crystalline waters of different shades.
Las Calderas Bay
In this place, of calm waters, we can observe part of the fauna and flora that keep the area alive. There are white and red mangrove swamps, specifically, in whose canopies fly herds of earwigs or coots. There is also an immense variety of butterflies and beetles.
Mano Juan
It is the main town of Saona, where about 400 people live and make their living from fishing. In the village, located about six kilometers from Catuano, visitors can enjoy its spectacular beach and other attractions for recreation and entertainment.