10 Paradisiacal Eco-Cabins In The Dominican Republic (Great for Ecotourism)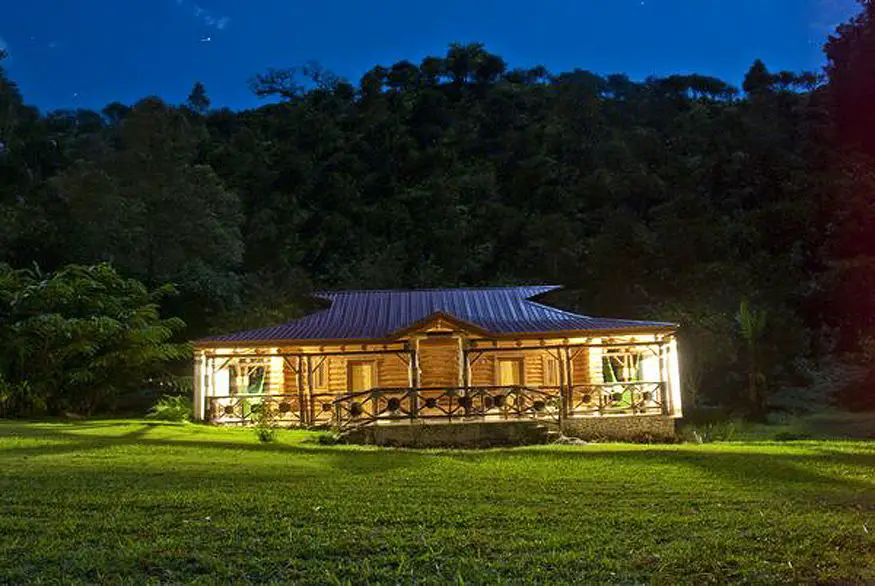 If you want to visit the Dominican Republic and are a nature lover, or just want to experience something different than resort tourism, in the Dominican Republic there are many options for ecotourism.
Here I highlight the accommodation options of this type, as a recognition of its sustainable management, where the care for the environment and its link with local communities stands out.
Below are ten small but large infrastructure properties in their mission of responsible and committed performance.
Some of them are little known, but because of their excellent service they have conquered a high level of preference among travelers who opt for these options:
Villa Pajon

At the top of the Valle Nuevo National Park, 20 kilometers from Constanza, climbing its mountains is this eco-lodge, which consists of seven comfortable cabins with kitchen, stone fireplaces, rustic furniture, terrace with barbecue and a central dining room.
It offers ecological walks, horseback riding, bird watching, mountain biking, swimming in streams and excursions to the Aguas Blancas waterfall and the Pyramids.
Tubagua Plantation Ecovillage

At a thousand feet high in the heart of the Puerto Plata mountains, bordered by the Cordillera Septentrional, is this property oriented to provide a rural experience.
Apart from being a paradisiacal place, in this ecological Ecolodge you will also find the origins of coffee from different towns in the Dominican Republic.
Tubagua is a word of Taino origin with which a specific variety of yucca was identified.
100% Dominican coffee and ecological tourism go hand in hand.
It allows you to practice hiking, take mud baths, watch birds, or rest feeling the caress of the pure air. Its accommodation is basic and has common recreational areas and a kitchen, from where you can see the beautiful view of the mountains.
Clave Verde
Located on the hill of the town of Barbacoa in Samaná, ideal for resting and getting in touch with nature is Clave Verde, which is characterized by its rustic decoration and its sustainable operations aimed at preserving the environment.
It offers a spectacular view of the sea and the mountains. It has a restaurant, swimming pool, gym, games room, spaces for running, walking and meditating.
El Morro Eco Adventure Hotel
Within the El Morro National Park in the town of San Fernando, Montecristi, is this comfortable boutique hotel, an ideal place to discover the richness of this region.
It has twelve rooms with ample facilities, including Wi-Fi Internet; two restaurants, a bar, a heliport, a swimming pool and a private parking lot. It offers trekking to the morro, a walk through the caños and mangles, cycling, hiking, kayaking, snorkeling, among others.
Rancho Platon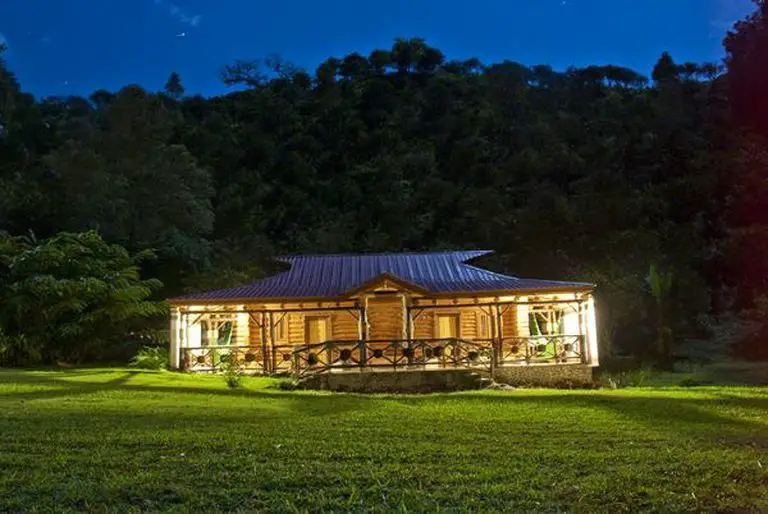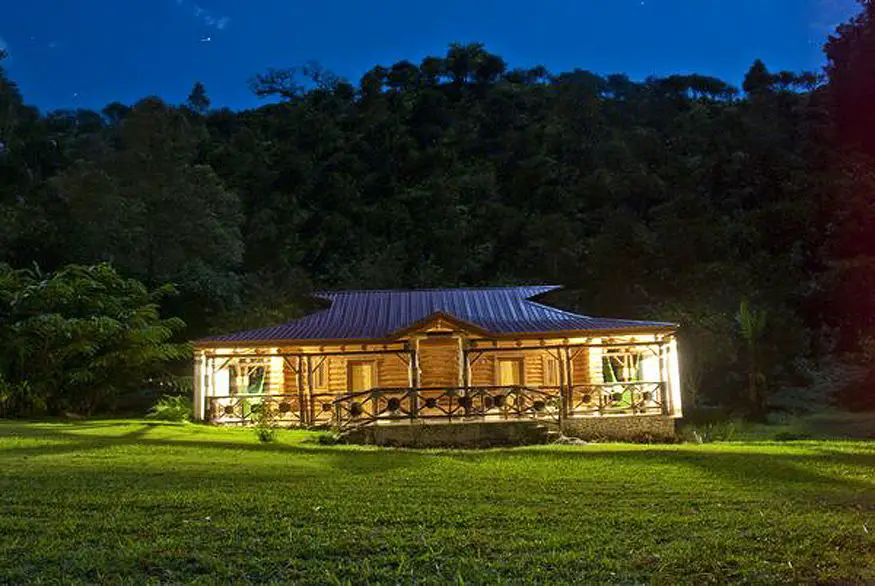 Luxurious and comfortable in the middle of a totally natural environment in Barahona, this is how this ecological hotel is defined, famous for its tree houses, one of its spectacular attractions.
It has four types of cabins with an elegant decoration; in addition to a restaurant, play areas, a terrace and to be able to practice tubing, strolls to horse, long walks, mountain bike or to slide of its defiant slide.
Altos de Caño Hondo
Bordering Los Haitises National Park, in Sabana de la Mar, in the province of Hato Mayor del Rey, this interesting eco-tourism project has 16 comfortable rooms and one suite, a restaurant and the advantages of visiting several caves that surround it, including Los Haitises, in addition to horseback riding, kayaking, the tour of the Humpback Whales (in season) or the Bay of San Lorenzo, among others.
Sereno de la Montaña
In order to promote sustainable tourism in Espaillat, 34 kilometers from Moca, the Sereno de la Montaña Hotel is located, built in accordance with the architecture of the area. It has two five-unit hostels with simple family rooms, each with important amenities.
It has a bar-restaurant, an area for camping, and the possibility of taking a dip in the Jamao and Arroyo Blanco rivers, and practicing hiking, biking, horseback riding and kayaking.
La Aurora Ranch
For those who seek to rest in the arms of nature there is Rancho La Aurora, because it is located in the middle of the green hills of the Cordillera Central, in Jarabacoa.
For lodging it has comfortable rooms, suites or villas, as well as a kitchen, living room and dining room. It has a swimming pool, meeting room and a game room. It offers horseback or bicycle rides, rafting, going to the river or visiting a large orchid farm.
Vecchia Caserma
In the middle of a leafy garden, twelve kilometers from the La Romana-Bayahibe highway and ten minutes from the Bayahibe and Dominicus beaches is this elegant boutique-style hotel, a paradise for escaping the daily grind and the possibility of exploring the Saona and Catalina islands.
It has 14 double rooms and 4 triple rooms with all the facilities, plus a restaurant, a bar, a large green area, a terrace and a swimming pool.
Doña Chava Hostal
With a quiet, cozy and very familiar atmosphere, this is Hostal Doña Chava, the best place for ecotourism lovers and to explore the natural heritage that Pedernales offers, where it is located.
It has 21 rooms, a bar area and space to share peacefully. From here, tours to Bahia de las Aguilas, the Hoyo de Pelempito, the Laguna de Oviedo and the Sierra de Bahoruco are organized.