The 10 Best Beaches in Punta Cana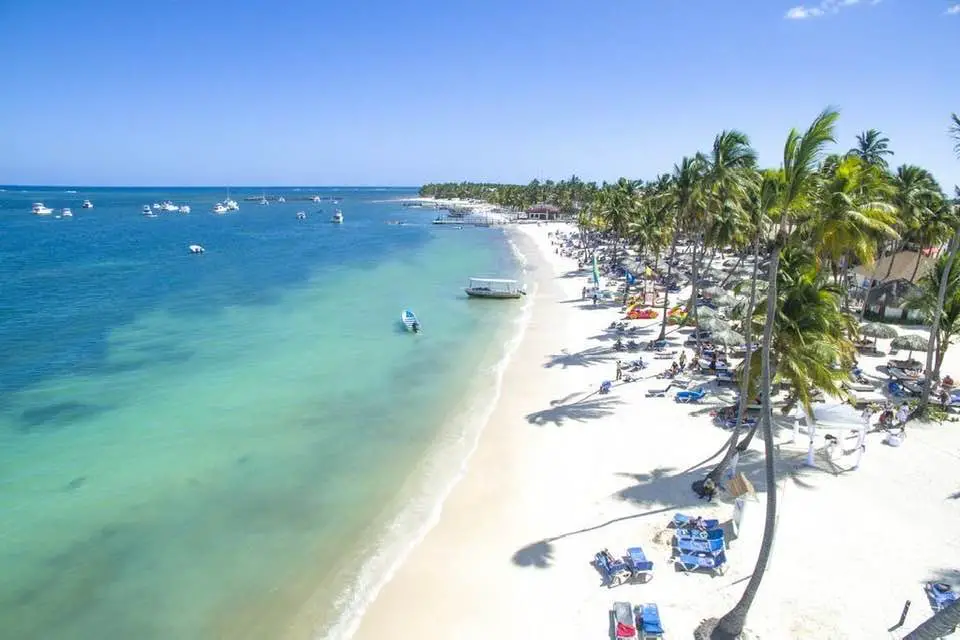 The beaches of the Dominican Republic are the best attributes of the island since many have been listed as some of the best tourist places in the Caribbean. There are beaches for all tastes. From quiet and isolated beaches for sun lovers to wide beaches with artificial touches that offer numerous fun activities for family groups.
I show you the ten best beaches in Punta Cana, a paradisiacal east coast of the Dominican Republic, famous for its 50 kilometers of dream beaches, surrounded by exclusive all-inclusive resorts.
1.Bávaro Beach
Among the beaches of Punta Cana, Playa Bávaro is one of the most popular and recognized besides being of the most beautiful beaches in the Caribbean, with kilometers of fine white sands, crystal clear waters of turquoise blue tones, and lush representative vegetation of a Caribbean beach with long rows of palm trees on its coast , where you can enjoy the sun and activities such as sailing, snorkeling, and diving.
This beach is recognized by Unesco as one of the best beaches in the world. Its crystal clear waters of the Caribbean Sea, the fine white sand and the coconut trees that populate the coast, make Bavaro a must-see in Punta Cana.
On this beach, where famous mansions such as Oscar de la Renta and Julio Iglesias have installed their mansions, the largest number of hotel complexes and all-inclusive resorts in the area are concentrated, as well as numerous beach bars where you can enjoy tropical drinks in front of the sea. A few steps away, you will find some exclusive shopping centers and nightclubs.
On this beach is the Jelly fish restaurant located in Punta Cana (Playa Bavaro) between the Melià Caribe-Tropical and Ifa Beach hotels on the beachfront and in one of the best beach areas of Punta Cana. Its specialty is fish and shellfish such as lobster or seafood grills.
2.Punta Cana Beach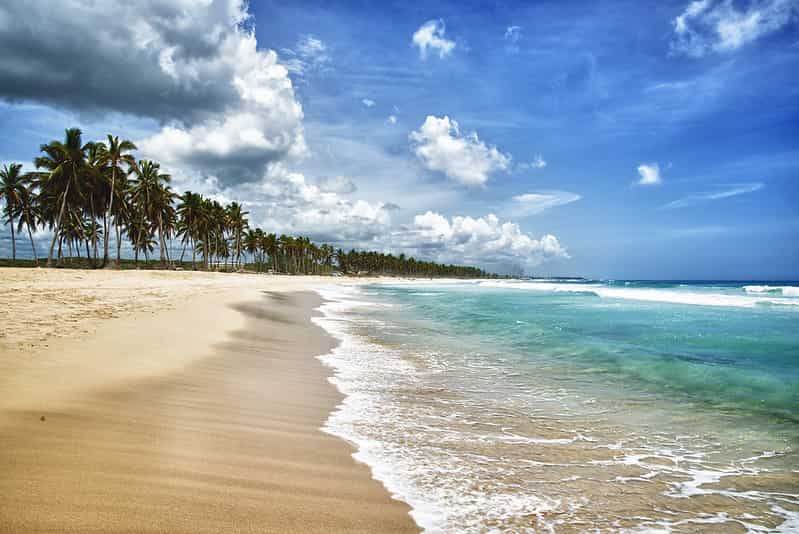 Continuing the list, there is Punta Cana Beach, where you can enjoy the show that offers 2 kilometers of white sands, crystal clear waters and wonderful coconut palm environments. On this beach, it is also possible to practice different water sports, such as sailing, windsurfing, kayaking or snorkeling. (there is a kitesurfing school right next to the beach).
It is located very close to the international airport of Punta Cana, between the Club Med PC and the Westin Resort. As in almost all public beaches, there is a restaurant of the same name, although it is not mandatory to consume there to enjoy the beach.
Next to Bavaro, it is one of the most famous beaches in Punta Cana, with several hotel complexes, night clubs, and golf courses. In the surroundings, there is the exclusive Punta Cana Village complex, a residential and commercial center with a variety of shops and restaurants.
3.Macao Beach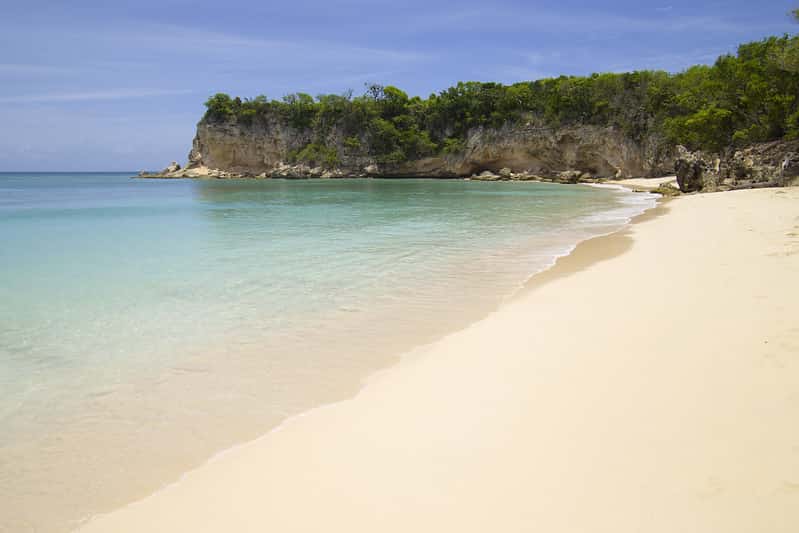 Macao Beach is one of the few beaches in Punta Cana that was not yet taken by the resorts. It is located north of Punta Cana, about 30 minutes by car from Bávaro.
This beach is visited by both locals and tourists on quad or buggy excursions, but it can still be isolated from the noise of the engines.  Due to its high waves, in Macao, you can surf, and rent equipment for the sport. You can also do surf lessons there.
It is a beautiful beach with fine white sand, it is completely public and free, among the negative aspects of this beach are its high waves, it is not a beach conditioned with wave breakers, and it is also frequented by local vendors.
4. Juanillo Beach
Considered one of the most beautiful beaches in Punta Cana, with a long stretch of white sands, rows of coconut trees and always calm waters, ideal for families with children.
Playa Juanillo is located in the exclusive area of Cap Cana, a private area with hotel complexes, restaurants, convention centers, golf course and marina. For those who do not have accommodation in Cap Cana, this beach has a public access, allowing you to visit it during the day.Playa Juanillo is quite protected and has no waves, it is ideal for people traveling with children, or for photography lovers since it has beautiful tropical views that inspire any lens lover.
Playa Juanillo is located in Cap Cana, province of La Altagracia, municipality of Higüey. It is located at the eastern end of the southeastern or Caribbean coastal plain.
Playa Juanillo is one of the most beautiful coasts in the world and for a few years, its surroundings have been used for large concerts of electronic music and leisure at night.
Enjoying a day at the beach in Juanillo is a real luxury, especially for having a heavenly beach that is hard to forget when you visit it.
In addition to its beach, visitors who arrive in Juanillo can taste through this restaurant of good gastronomy and tropical drinks, which with the attractive view of the sea, makes it a good complement. Juanillo Beach Food and Drinks is open Monday through Sunday from 9:00 a.m. – 6:00 p.m and the dishes range between 15 and 30 dollars.
5. Uvero Alto Beach
Uvero Alto is located at the north end of Punta Cana, which means that it is quite far from the tourist center. It is important to keep in mind that in recent years an incipient hotel offer has flourished. Uvero Alto, it is still a quiet place, since there are usually fewer people than in other corners of this famous destination.
Uvero Alto is a beach of golden sand and crystal clear waters, the beach has a virgin and charming appearance. You must keep in mind that there are fewer reefs here than in other beaches, so the waves are higher. Many are those who come to Uvero Alto to surf.
One of the peculiarities of Uvero Alto is that the surrounding palm trees are inclined exaggeratedly. Finally, you should know that here you can go horse riding through the sand, as well as other types of excursions.
6.Playa Blanca (White Beach)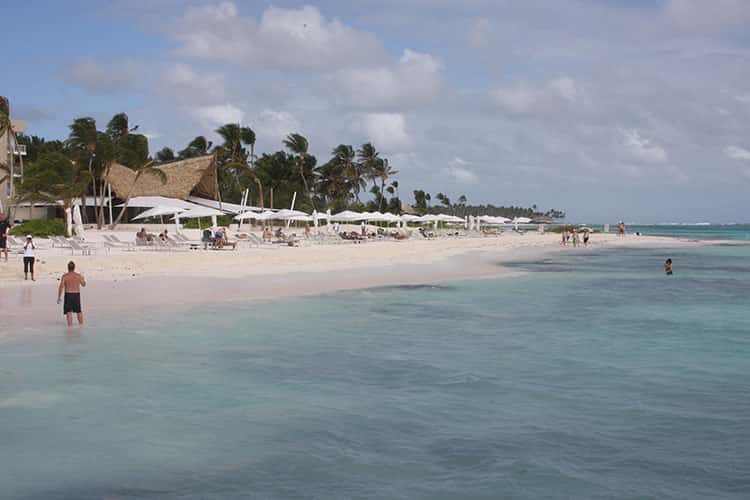 White Beach (Playa Blanca) corresponds to a not very extensive beach, which although it is located in private facilities of a restaurant belonging to Punta Cana Resorts & Club, it has public access. This small Caribbean paradise, stands out for its tranquility and beauty, with white sands, turquoise waters and coral reefs a few meters away, being perfect for snorkeling and diving.
Playa Blanca is one of the best in Punta Cana, its waters are so calm that you can visit with the whole family including children. In addition to eating in the beautiful restaurant-bar on the beach Playa Blanca restaurant.
In this beach, you can practice a variety of activities. From the typical ones like volleyball, soccer, sunbathing and swimming, to kitesurfing, snorkeling, and diving.
7. Arena Gorda Beach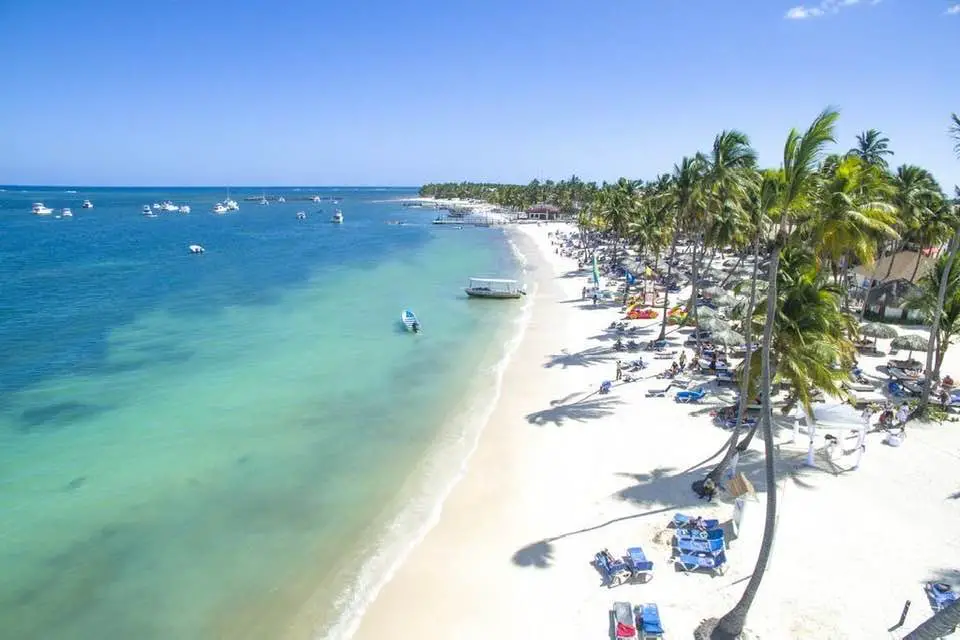 Playa Arena Gorda corresponds to another of the wonders of the eastern Dominican Republic, is located next to Bavaro, with miles of soft white sands, crystal clear waters and the inevitable coconut trees that are present in all the beaches of Punta Cana. to the north, however, it has more waves than its southern neighbors.
Several resorts have been installed along its coastal strip, adding to the Caribbean postcard, beach chairs, and hammocks to enjoy the sun. A few steps from the beach, there are also some of the most famous nightclubs in Punta Cana.
8. Cabeza de toro beach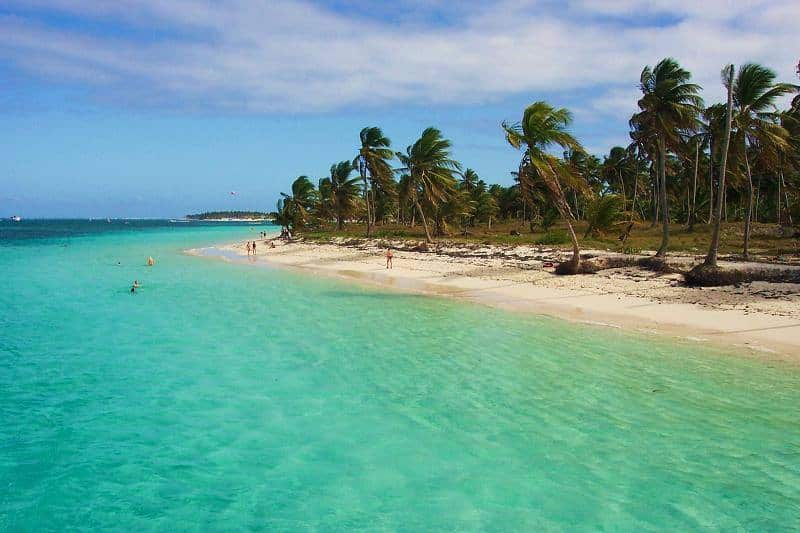 Known as the place where the Sun rises in Punta Cana, a white sand beach, turquoise waters and coconut groves, famous for its scenic beauty and vast offer of water sports, with options for snorkeling, diving, boat trips, catamarans, and aquatic bikes.
In Playa Cabeza de Toro, several all-inclusive hotels and resorts have also been installed, so it is easily filled with people and activities, with no lesser extent than others in the area.
9. El Cortecito Beach
Playa El Cortecito, is a beach divided into two areas, the first part of a hotel zone and the second of a small fishing village of the same name. It has shallow and quite calm waters, ideal for swimming.
Like all the beaches in this area, El Cortecito is a beautiful sandy beach with golden sand lined with coconut trees. However, much of the beach is reserved for guests of all-inclusive hotels and only a small part is open to the public, with restaurants, beach bars, and souvenir shops.
Of course, the restaurants, which are right on the beach, offer excellent lobsters and fresh fish. Also, in the town of El Cortecito, there are many small restaurants, small shops and many houses for rent.
This beach is usually quite full of people and activity, with several resorts, beach bars where you can enjoy tropical drinks and offer recreational activities, highlighting parasailing. At the beginning of the beach, in the area of ​​the town, you can enjoy several restaurants and craft shops.
El cortecito beach, which is nestled in a coconut palm grove, is usually high occupancy and visited by water sports enthusiasts. In addition, it is frequented by those who take it as a starting point to access the other beaches of the place.
10. Saona Island
Although it is not properly on the coast of Punta Cana, it is the most sought after an excursion of those who visit the area, accessible after approximately 1 hour of navigation from the port of Bayahibe, located about 30 minutes by highway from Punta Cana.
Isla Saona is one of the largest islands in the Dominican Republic, which in addition to being famous for its coastal lagoons, biodiversity and archaeological sites, has paradisiacal virgin beaches of white sands and turquoise waters with beautiful coral reefs. Among the beaches of Isla Saona, it is worth noting the beautiful Beach Ridge.