Miches, a Paradise On The Seashore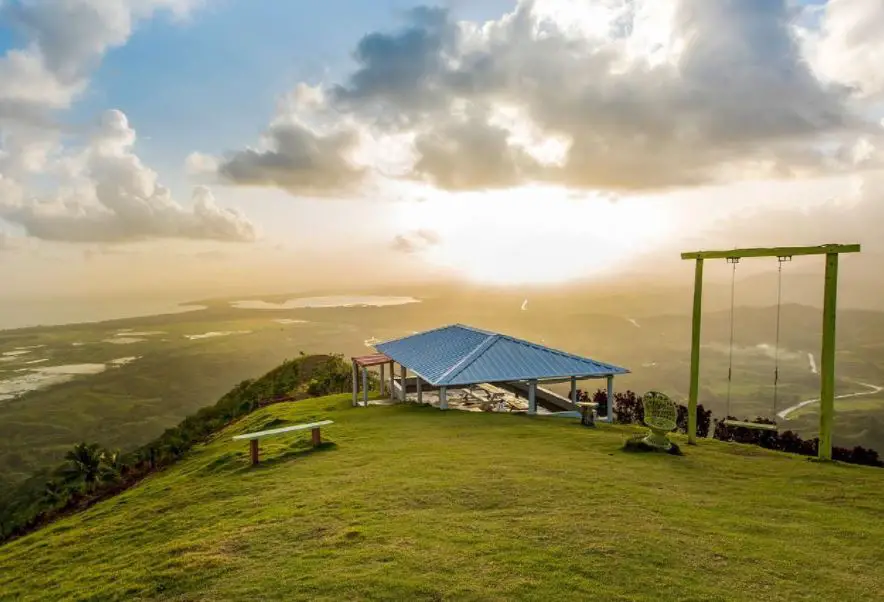 Miches, one of the two municipalities of El Seibo province, is located on the north coast of this province of the Dominican Republic. Thanks to its beautiful beaches, it is widely recognized as the tourist area of El Seibo, attracting thousands of national and international tourists every year.
It is located very close to Punta Cana, just 1.5 hours by car (101.6 km).
The entrance to the town is a unique preamble. The fresh and sometimes warm sea breeze and all that the human eye perceives in this municipality, stimulate the imagination but only leave a small idea of the wonders to be found in this place.
Every kilometer traveled within this municipality, takes you to paradisiacal places with the virtue of making you feel that you are outside the planet earth.
Montana Redonda, its beaches, lagoons, and its natural pool Media Luna, as well as the hospitality and joy of its people, are an open invitation for anyone who loves nature and its goodness, tranquility, and adventure.
The incomparable beauty of this place has always existed. However, few, including its inhabitants, had stopped to admire it and discover its potential.
Its ecological attributes and its geographical location make it a unique tourist destination, capable of attracting foreign investment and visitation, as well as local.
Montana Redonda (Round Mountain)
Montana Redonda is a 360-degree view, a thousand feet above sea level. It has been many years since this elevated viewpoint was conditioned to marvel the human sight.
Despite all that time of existence, it was in mid-2015 when the visits were energized in the area, thanks to the construction of the East road, in addition to the promotion on social networks with spectacular photos of the area, this place is currently visited by about three and six thousand people monthly.
From the top of this mountain, you can see the entire Bay of Samaná, the Miches mountain range, El Limón and Redonda lagoons, and the Costa Esmeralda beach.
"Flying on a broom, swinging "in the void", relaxing on a hammock, are other attractions offered by Redonda Mountain to its visitors. It also has a gift shop and a fast-food restaurant based on fish and seafood.
In order to make the experience even more pleasant, there are tours in the area that take tourists to Costa Esmeralda, Redonda lagoon, beach and Limón lagoon.
Challenges
Miches have emerged from anonymity and have begun to increase the number of visitors, due to its natural charms.
This achievement is fraught with challenges, including safeguarding biodiversity, teaching the population to take care of tourists, training tourist guides and maintaining the quality of its gastronomy.
Esmeralda Beach
The green of its waters resembles that of the stone that gives rise to its name, and yes, this place is a real jewel, a "hidden" treasure, which invites you to discover it.
Playa Esmeralda is a sea of calm waters that still lacks hotel buildings and other businesses in its surroundings.
However, at the door are projects of rooms that will provide accommodation to visitors.
Companies such as Cisneros Real Estate and Grupo Punta Cana will develop tourism projects that will boost the economy and promote job creation.
It is in the midst of its coconut groves that visitors can find serenity or enjoy horseback riding along the shores of its waters while contemplating its imposing beauty.
Tours
It is possible to visit the different points of interest in the municipality of Miches in a single day.
There are companies such as Tours that offer to navigate the waters of the place aboard a catamaran, speedboat, boat or kayak, in excursions that allow tourists to visit the main charms of the area, while they receive information about them and have fun to the rhythm of music, in a period of approximately four hours.
Lemon Lagoon
A tunnel "built" by trees is the anteroom of a scenery whose virtue is to put in flight the thought and the spirit. This is Laguna Limón, a source of freshwater that serves as a wild refuge of Limón beach.
It is home to different types of mangroves, as well as various marine species, the most abundant being snook and tilapia, which are used by the 16 members of the Kayak Limón project for their own and commercial consumption. Those who wish can explore the waters aboard a kayak or speedboat.