Gay-friendly Resorts In Punta Cana, Recommendations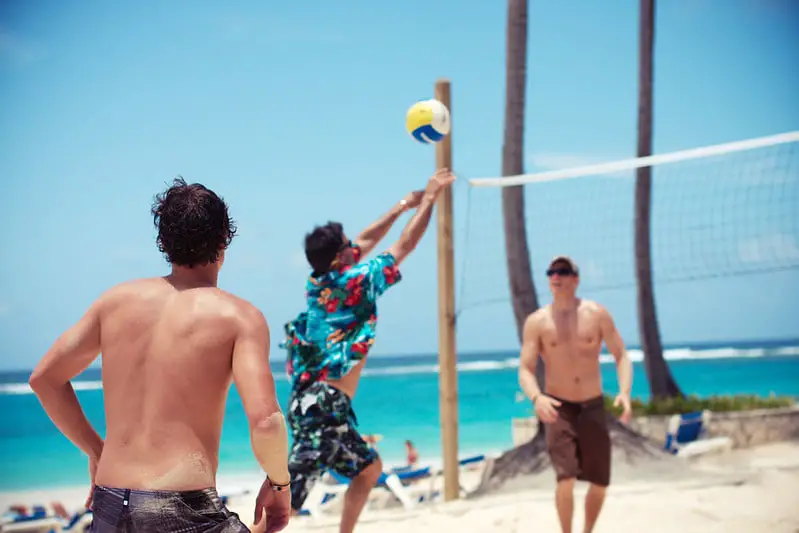 Punta Cana is very gay friendly, the resorts are inclusive places where the objective is that everyone who arrives has the best stay possible, although the resorts in Punta Cana are segmented according to different factors, including whether they are family or just for adults.
The most gay friendly resorts in Punta Cana are those that are only for adults and with a high value in their service, these resorts are visited very frequently by gay couples and also most of the staff, as part of the animation staff are gay.
Anyway, even in these resorts only for adults there are different options, some are focused on relaxation and rest as a couple, others are more lively, it all depends on what you are looking for. 
What is not very common in Punta Cana is to find resorts or bars exclusively or openly gay, in the city of Santo Domingo you can find a lot of bars and places openly gay, especially in the colonial city.
I made a compilation of the adult only resorts in Punta Cana where most gay couples visit and the service is gay friendly, I didn't include Hard Rock in the list, although is one of the best resorts in Punta Cana, it is a family rated resort although it has parts that are only for adults, anyway, you could also consider it as a gay friendly resort.
Sanctuary Cap Cana
Undoubtedly one of the best options to enjoy Punta Cana, in a hotel only for adults, with an exquisite treatment, with different room options, including some really extraordinary.
With a reasonable number of guests that allows you to enjoy a quiet and very peaceful stay, in addition, with three or four of the best golf courses on the island fifteen minutes away.
Secrets Cap Cana Resort & Spa
A newly opened hotel, spectacular facilities, only for adults, all new and brand new. A small, comfortable and exquisite quality resort, where you don't need trains or golf carts to get around because there is immediate access to everything, resulting in peace, tranquillity and relaxation.
An excellent beach like Playa Juanillo is the typical natural pool that you only see in Isla Saona, spectacular, without algae, shallow, and the possibility of going in as far as you want without being covered because there are no buoys that limit you. 
No boats or parasailings that run you over. The comfort of the hammocks with level mats and the authentic palapas that protect you from the sun also stand out.
The rooms are spectacular with all the comforts, to emphasize the great bed and the comfortable mattress. Also surprising is a bathroom with two rain showers and a bathtub on the balcony, but what is priceless is being able to see the sunrise from the bed.
A very friendly staff concerned about your well-being, because although they are supposed to all, many go further and with a high added value to their administration they provide you with surprising details that make you feel comfortable and special.
Excellence El Carmen
Hotel for adults with impeccable spacious and comfortable facilities Restaurants and bars with quality food and drink service. Exquisite treatment of all staff. and Wifi connection throughout the Resort, the service is first class and the attentions of the staff have been catalogued as excellent.
Hotel Riu Palace Macao
The hotel is only for adults so you can enjoy it fully, the rooms are very comfortable with Jacuzzi in the room and the animation is excellent to make your stay very entertaining, the aqua gym is very fun.The atmosphere is very quiet in all areas, you can read, use your computer to work or whatever you want without interruptions from annoying noises. 
Even in the pool where more people are concentrated, most people are reading or sunbathing. Really, it's an ideal environment to relax. On the other hand, it has places to visit and have fun like the disco, the casino, pool party, the staff is very attentive and helpful.
Zoetry Agua Punta Cana
A very good hotel and a different option with excellent service, the food is very good and the staff is very attentive, it has an ecological style to be in contact with the nature and there is an area with sauna type Jacuzzi, really to relax.
This hotel has a different concept, it is like a relaxation sanctuary, if you are looking for foam parties and that style of activities perhaps this is not your best option, in this hotel the relaxation and the excellent treatment of the personnel stands out.
CHIC Punta Cana
From the moment you arrive, you will be treated to an exquisite welcome cocktail, which is always available at the main reception and at the Diamond Club. 
The rooms are spacious, modern with a good decoration, the bed super comfortable and as for the impeccable cleanliness. Regarding the food, a buffet with enough variety and good quality. 
It is a quiet hotel because it is only for adults, but you can enjoy various activities in the pool with a group of entertainers very funny that make your stay very enjoyable. We could enjoy a private cabin with Jacuzzi on the edge of the pool with a waiter at your service very aware of any need you coul have.