El Cortecito, Punta Cana- Guide And Important Tips For Buying Souvenirs
El Cortecito is a coastal community, located in Punta Cana, specifically in the area called Costa del Coco, which has several hotel complexes and a segment of public beach that bears the same name. The beach is one of the most popular in Punta Cana for its outstanding characteristics, fine white sand, and crystal clear turquoise waters.
The commercial activity of the Cortecito stands out, it is an area where there are many commercial establishments and tourists frequently attend to buy souvenirs at affordable prices since the costs of items in hotels are usually exorbitant.
El Cortecito is quite popular in Punta Cana, and is known for being a shopping area located next to the beach, next to the Palladium Complex. There is also a fishing excursion agency, exchange office, with some exceptions, in almost all stores it is bought and sold at the bargain.
In the Cortecito you can buy all the typical gifts of the Dominican Republic: rum, Taino paintings, jewelry, shirts, coffee, crafts, cigars, clothes and much more.
If you do not know how to haggle, you will have to practice a little because if not, they will deceive you like a child, when they ask you for a price, start by giving them a third of what they ask for, and so you see how far you can go, usually they ask up to more than double the original price of each item.
Another recommendation is that while you are buying items, asking for a price for everything you take, although then you put everything together and haggle another bit, they usually take a tray and put all the items in it and ask you for the whole set with which take you the way they do business.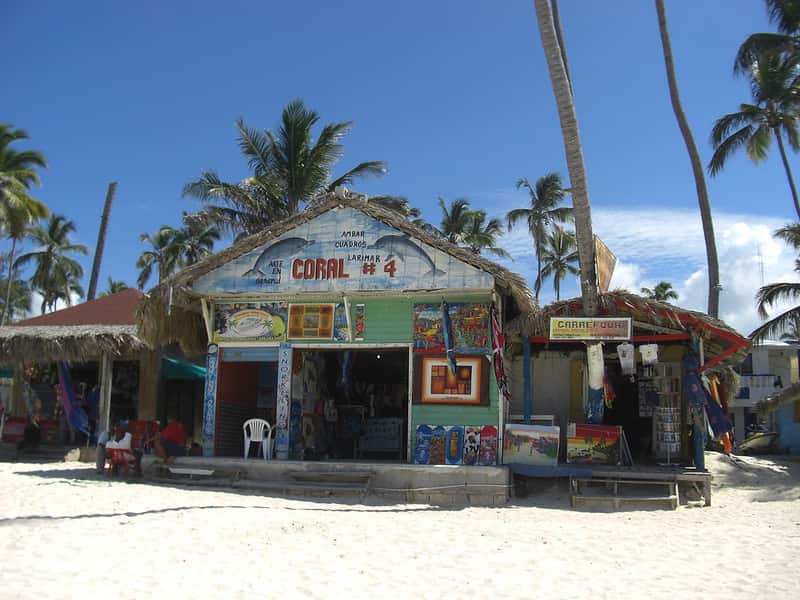 El Cortecito offers a wide commercial variety
Like all the beaches in this area, El Cortecito is a beautiful sandy beach with golden sand lined with coconut trees. However, much of the beach is reserved for guests of all-inclusive hotels and only a small part is open to the public, with restaurants, beach bars, and souvenir shops. Of course, the restaurants, which are right on the beach, offer excellent lobsters and fresh fish. Besides, in the town of El Cortecito, there are many small restaurants, small shops and many houses for rent.
If you are a person who does not like to haggle, maybe the shopping in the Cortecito are not for you, haggling can sometimes be overwhelming and annoying, you must be mentally prepared when you go to the commercial area of ​​the Cortecito, especially for the siege of the sellers, everyone is doing their job of "attracting customers".
If you don't want to get dizzy with bargaining, you can take a look at the store run by some Russians. On the beachfront, painted in white and green. There are three stores in one: in one they sell handicrafts and jewelry, in the other clothes and in the third rum, coffee, cocoa, tobacco, etc.
They have fixed prices, usually pretty good prices and you don't have to haggle. If you make a good purchase, you usually have a discount on what is marked.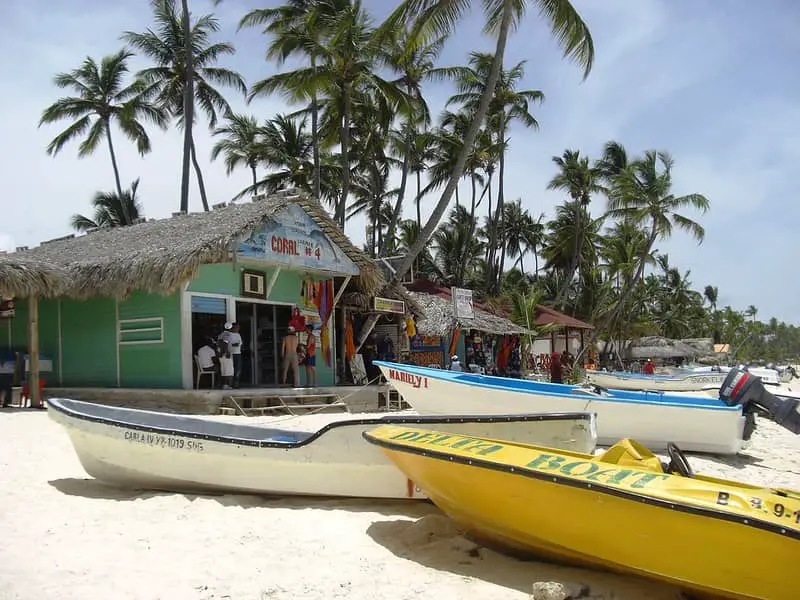 How to get to the Cortecito from Grand Palladium, other hotels and other options
Among the popular hotel complexes that are relatively close to the Cortecito are Grand Palladium, Barcelo Dominican Beach and Iberostar, this last one is not so close to the Cortecito area, you could walk along the beach from the Iberostar to the Cortecito, but it is not worth it, the journey can take almost an hour walking, and if you make purchases it would be an effort the way back with some packages.
The safest and fastest way to get to the court will depend on the hotel you are staying at. You could walk along the beach if you are in a hotel near the cortecito area or take a taxi if you stay further. If you stay far away, before taking a taxi to go to the Cortecito, find out if there are any other commercial areas of this type near your hotel, in Punta Cana there are several commercial-style areas such as the cortecito, which you save on shopping of the Cortecito you can spend it by taxi if you are very far away.
If you put yourself in the Palladium looking at the sea and with your back to the hotel you have to walk to the right and just where the Palladium ends the area of ​​the Royal specifically, the Cortecito begins.
Halfway between the Cortecito and the Be Live Collection is another well-known commercial area, Plaza Bibijagua, where you can make the same purchases and at a similar price than in the Cortecito.
"El Corte Inglés" (This area is called that because there is a store sign that bears that name that serves as a reference to locate the location of the stores.) is another commercial booth area on the same beach, near the Iberostar and where you can buy practically the same things as in the Cortecito.
If you are interested in buying Rum and you are not convinced to buy in the Cortecito, you can also go to a shopping center that has a supermarket among its stores. This option is also recommended because these centers usually put free buses that pass through the hotels.
You have for example the San Juan Shopping Center, where the highly recommended Super Pola is, this one of the supermarkets in which I trust and make purchases frequently. I've been at the Palma Real Shopping Center but the supermarket gave me the impression that it did not have very good prices.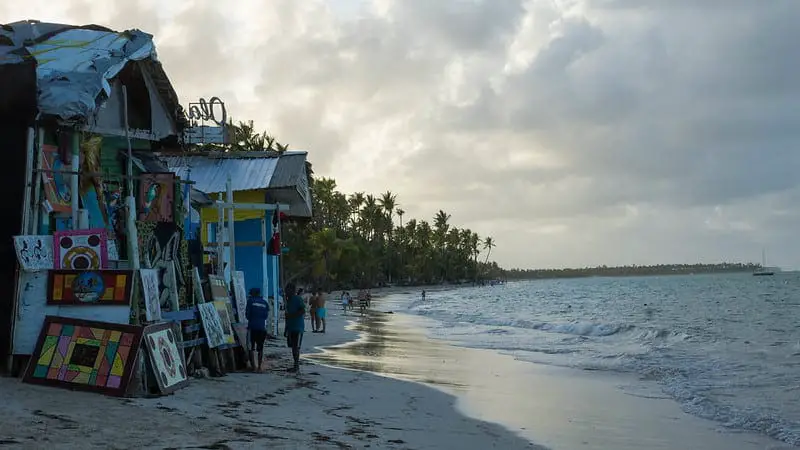 What can be purchased at the Cortecito and additional advices
Depending on tastes, several items can be purchased at the Cortecito. The typical thing to buy is rum, you can get very good prices, practically half the price than other places.
Taino paintings are also very typical, very colorful.
Jewelry Larimar stone is very characteristic, a semi-precious stone that only occurs in the Dominican Republic and is quite affordable (bracelets, earrings). There are also amber pieces that are a bit more expensive and of other materials.
Crafts, You can also buy cigars of excellent quality,and then all the typical beach, t-shirts, caps, etc.
But, You must be careful with buying larimar in the stalls, many of the jewels are not authentic Larimar. and amber alike can sell it forged. The larimar can achieve a very successful imitation just like amber, plasticized Larimar and Amber is resin.
What is worth buying at the Cortecito?
Most tourists go to the Cortecito in search of Dominican Rum, it is quite popular.
What rum is it worth? The answer will depend on how much you like rum and how much you want to spend. If you are not a big fan of rum, buy Brugal Extra Viejo or Barcelo Imperial. They are two quality rums, especially the second one both to combine with tail and to take only.
You can get other more affordable and simple rums such as Brugal Añejo, Barceló Añejo, If you want to buy rums of great category, high-end, you can opt for Brugal 1888 or the Golden Age, but for these rums in the Cortecito you are going to ask for a lot of money, in Dominican supermarkets you can find it at a much better price.
It is safe to go shopping at the Cortecito?
About security, what is always commented, it is advisable to go to prudential hours, and through busy sites, exactly like many sites. You will not have any problem, just use common sense and nothing extraordinary or serious could happen.
Hire excursions in the Cortecito
In the Cortecito, we have a Weiler excursion agency and some others especially specialized in fishing excursions, but the agencies most recommended by users are the agencies of Captain Gringo excursions, Pedrito Punta Cana excursions, etc, they can organize the type of excursions you are looking for and although they are not based in the Cortecito, they are of total trust and guarantee. You can find more information about them on their websites.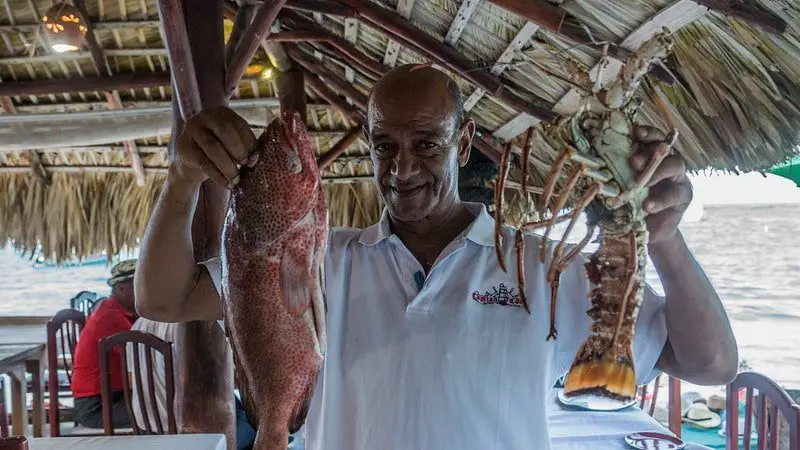 Nightlife and Restaurants at the Cortecito Beach
The nightlife on this beach is quite active, it has bars, restaurants, discos and many places to eat and spend some leisure time, among the most popular places are Onno´s Bávaro, Steve´s Corner Bar, La Playita Bistro and Bar, Captain Cook, the Kan Drink House and more.If you are a lover of drinks and seafood, then you will enjoy the Cortecito.