Best Rated And Recommended Restaurants In Punta Cana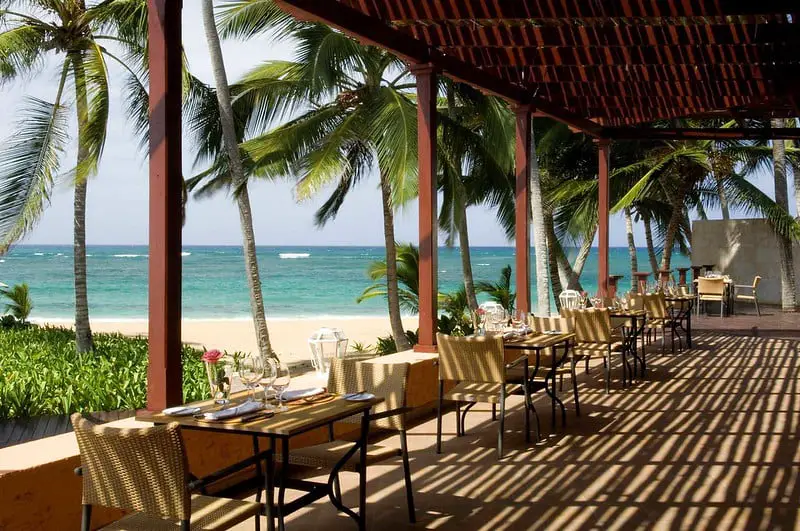 The gastronomic offer in Punta Cana is as extensive and varied as its beaches and hotels, from restaurants that offer international menus, to the best local dishes, in Punta Cana you can experience a wide variety of tasting experiences while enjoying landscapes that could move the sensibility of any person.
There are many restaurants in Punta Cana and the variety is wide, all restaurants offer their best service at different levels, some stand out more than others in different aspects, here I bring you, the most recommended restaurants and best valued by users in Punta Cana, If any restaurant is not in the list does not mean that it is bad, or not recommended, I made this compilation based on the most voted and with a score based on very good to excellent.
Gaby Beach Restaurant
A buffet restaurant designed for all tastes, with a variety of meals for breakfast, lunch, dinner and snacks. The food is fresh and healthy so you don't feel bad while on vacation. Attention in its point, in addition the decoration is cozy and the whole space is very clean, from the restaurant there are wonderful views of the beach and the menu is fine, in addition to the service.
Onno's Bávaro
It has been listed by many as an excellent restaurant To share, for dinner as a couple, drinks with friends, at the seaside a very pleasant atmosphere, very good service, and good food, a very comfortable place with different environments, they have drink specials And the experience is unique, They have DJ music and there is also live music, some days of the week, they have an upstairs terrace that is ideal for groups.
Pastrata Mexican Restaurant
As the name implies, it is a restaurant of Mexican and traditional food, many of its ingredients are imported from Mexico to offer an original experience, all the food is made at the moment and fresh nothing is frozen or canned, they also have a vegetarian menu, the service and attention in this restaurant are highly valued by users, Recommended dishes in this restaurant, tacos, ceviche and drinks margarita.
Captain Cook Restaurant
Captain Cook is one of the most popular restaurants in Bávaro, Punta Cana, valued as a wonderful place to eat seafood on the seashore, Very good attention from the staff, a cozy place with a spectacular view, on the beach, very good dishes and fresh fish. If you are looking for fresh seafood, seafood paella, and all kinds of seafood broths, this is the best place in Bavaro to enjoy it, the barbecue of seafood, shrimp and grilled jaivas are highly recommended.
TOC Beach Bar & Restaurant
An ideal place at the edge of the beach has the panoramic view of the sea where you enjoy and you can eat relaxed with ideal music and live musical groups, the space is cozy and its sunset is wonderful,
the attention has been classified as very nice and fair prices, the watermelon mojito and the fish ceviche are recommended, the beach view is impressive.
Kukua Restaurant Beach Club
Listed as an excellent place to have fun in the company of friends or family, it has a wide variety of sea and land food, many recommend carbonara pasta with bacon and cream, prices are accessible and the service is very good, the restaurant has Pool and social area for events such as weddings.
Lorenzillo´s Punta Cana
Recognized for providing excellent service and a very fresh meal, good service and romantic atmosphere, an ideal restaurant for a romantic dinner, churrasco and lobster are recommended in this restaurant, users highlight the excellent service provided in this restaurant and the decoration very striking, it is located very close to the airport and most of the hotels in Punta Cana.
Restaurante Noah
It is a restaurant with an excellent atmosphere, good location, close to the main avenue and excellent service, concerning the food is classified as excellent, use quality ingredients and fresh, have the consistency of flavors and prices are fair, in this restaurant They have both an international and traditional Dominican menu.
Pepito City – The Venezuelan Flavor
Site of hamburger and hot dogs in the style of Venezuelan food, very well valued and recommended by many, in this place you can eat an authentic and delicious Venezuelan arepa, the "mixed gratin patacon" is recommended prices are excellent concerning good quality It is offered.
Chozza Punta Cana
Excellent place in Punta Cana, to visit with the family and spend a very pleasant time, the place is quite ample to celebrate birthdays, weddings or just take a section of photos, prices are fair according to quality, the restaurant has two artificial lakes where you can practice extreme sports for adventurers.
Pearl Beach Club
A spectacular beach club, excellent place with a very attractive pool for children, Beach, Bar, Shops, Dining areas, ideal to share with the Family, also with Friends, Couple or only. The attention of the staff is VIP, this place, apart from the food that is excellent, highlights the professional attention and the charm of the whole environment.
La Bruja Chupadora BBQ & Pub
It is a comfortable restaurant has two sections one open and one closed with air conditioning the service is fast food prices are reasonable, it is not very cheap, but reasonable prices according to the quality they offer, they have live music sometimes, account with parking and is located throughout the main avenue of corals.
Bachata Rosa Punta Cana
Unquestionably one of the best restaurants in all of Punta Cana, the food is excellent, good taste and the cost is accessible, a restaurant quite recommendable, although the waiting list is always long due to its popularity, there are usually tables available in the part of outside. The service is excellent, the waiters are on the lookout and try to bring what you ask for quickly, The attention is of another level, one of its main attractions, The restaurant is a work of art as a concept.
Playa Blanca Restaurant
Another of the best-rated restaurants in Punta Cana, is a beautiful outdoor place, spectacular view of the beach, good service, delicious food, beautiful beach, safe for children, beautiful scenery,
the restaurant has relatively high prices, but it is totally worth the experience, from the food, the atmosphere, the attention, everything is VIP.