9 Natural Fruit Juices Common In The Dominican Republic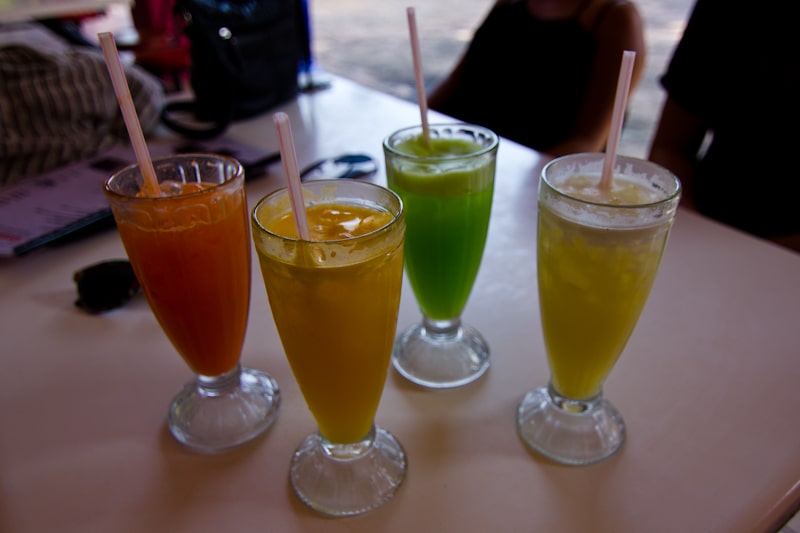 Natural fruit juices are a basic complement to meals in the Dominican Republic, there are people who love to drink fruit juices, sometimes accompanied at mealtime, other times they take it alone, they are also an alternative to carbonated drinks or artificial fruit juices.
That said, natural juices are available in practically all commercial food establishments, as well as in restaurants.
This is a list of the most common natural fruit juices in the Dominican Republic.
1- Orange Juice
Of course, the old reliable orange juice in the number 1 position on the list, in the Dominican Republic this is the most basic fruit juice that can be found, regularly drunk in the morning hours accompanying breakfast.
Natural orange juice tends to be somewhat unpredictable in taste, some oranges can be sourer than others and some people prepare it very low in sugar as well.
This juice can also be mixed with milk, evaporated milk exactly, this variant is the most popular in the country and is called "morisoñando", although honestly, this juice is very difficult to find in restaurants.
In the DR, the orange is called "china".
2- Chinola juice
In case you didn't know, in the Dominican Republic passion fruit is called "chinola", this is the second most popular fruit juice in the country, followed by orange juice.
It is one of the most refreshing juices, with a slight acid taste, quite light, you can also prepare this juice with evaporated milk as well as orange juice, in both ways it is very tasty.
3- Strawberry Juice
In most restaurants they have strawberry juice, it can be prepared with milk, but for my taste, drinking it naturally is much better, this juice is much thicker than orange and chinola juice, it is actually very popular, everyone knows the texture of this juice.
Strawberry juice is significantly more expensive than the others because in the Dominican Republic the cultivation of this fruit is very limited.
4- Lemon juice
Well, I think everyone knows lemon juice or lemonade, it is one of the few variants of juices that in the Dominican Republic does not have the alternative with evaporated milk, perhaps because of the great acidity of lemon.
This juice, along with the first three on the list are the most basic and common juices in restaurants and commercial food stands.
5- Papaya Juice
Papaya in DR is called "lechoza", this is another common juice, but it falls into the category of batidas, it is a very spicy juice, the most traditional way in which Dominicans consume this juice is with evaporated milk, although it can also be consumed without milk.
This juice is so thick that it is not appropriate to drink it with other meals, you can drink it at breakfast or at dinner time, If this juice seems very good to you, be careful with consuming it too much, it can be laxative when consumed in excess.
6- Melon juice
This is another juice that falls into the category of smoothies, it is not as commercial as the others, but it can be found quite often, it is one of the most refreshing juices I have tried, and despite being somewhat dense, it does not fall so heavy on the stomach.
Melon fruit is cantaloupe in the DR.
7-Cherry Juice
Cherry juice is very good, but you have to know how to prepare it, I say this because to make this juice it is necessary to liquefy the fruit, and on many occasions, small remains of seeds can stay in the juice, personally, this seems to me of little pleasure, if the juice is well strained it is a delight.
The cherry juice is another of those few juices that is not mixed with milk in the Dominican Republic, it is quite light and super refreshing.
8- Pineapple Juice
Another very common fruit juice, light and refreshing, the way it is prepared is as a smoothie, although I also drank a lot of pineapple juice made with the juice of the pineapple peel, although in restaurants and stores pineapple juice is not prepared this way.
The pineapple juice prepared with the peels is called "guarapo", it is simply made by leaving the pineapple peel in water for a couple of days, and then sugar is applied to each serving, I have years that I do not drink pineapple juice in this way.
9- Mango juice
Undoubtedly my favorite juice of all, mango juice is a smoothie, it can be prepared naturally and also with evaporated milk, in my opinion, it is the best juice, although with milk it is a little heavy to accompany meals.
Other popular juices
There are other popular fruit juices, although not as popular as the ones I just mentioned in the list.
Guava juice is also quite popular in the Dominican Republic, and quite thick, and tamarind juice is also very popular in cheaper commercial establishments.
Sapote juice (mammee apple) is popular in places where drinks are prepared, many people like this juice, it is prepared only with evaporated milk.
Carrot, oat and beet juices are also popular, sometimes they can even be mixed.