Santo Domingo Cathedral 3D Model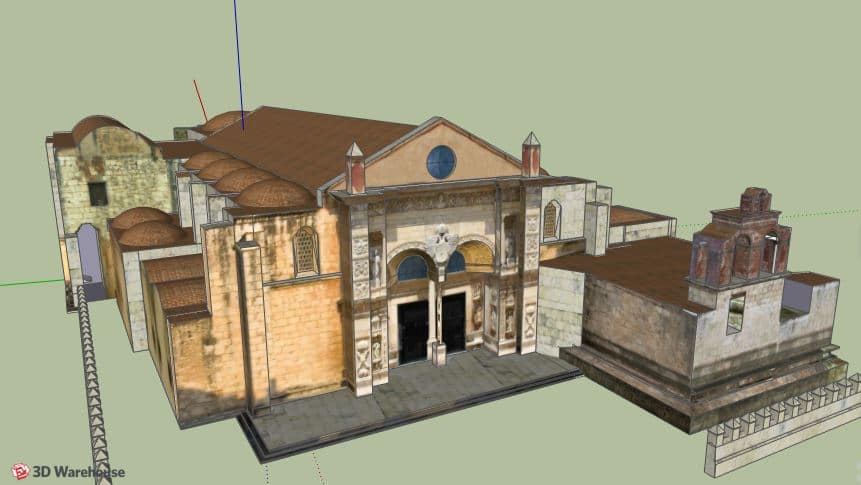 Santo Domingo Cathedral
It is commonly known as the Primate Cathedral of America, because the real name of the cathedral has so many words that the nouns are confused: Santa Iglesia Catedral Basílica Metropolitana de Nuestra Señora Santa María de la Encarnación o Anunciación.
This colonial building is the first Catholic cathedral in the entire American continent, and is located in the Colonial Zone in Santo Domingo, specifically between Arzobispo Meriño and Isabel La Católica streets and in front of the Parque Colón.
The cathedral was commissioned by Pope Julius II in 1504, and construction began in 1512 under the supervision of Bishop Fray García Padilla. It was inaugurated on February 12, 1546, with the name of Catedral Metropolitana y Primada de las Indias.
During the invasion of the English corsair Francis Drake in 1586, the cathedral served as his headquarters. However, everything of value in the church was stolen and vandalized before leaving the island.
The cathedral has a mixture of Gothic and Baroque architecture. It is a structure with solid gold-colored limestone walls, an impressive vaulted ceiling and fourteen side chapels decorated with different saints, biblical scenes and historical objects from colonial times.
The building has three doors that allow access to different important points of the Colonial Zone: Plaza de los Curas, the Columbus Park and the Plaza Mayor.
The gravestones located in different places of the temple stand out and belong to important personalities of the colonial time. It was in this place that the remains of Christopher Columbus rested until they were eventually moved to the Columbus Lighthouse built in his honor.
The cathedral contains a large collection of paintings, woodwork, furniture and other objects that have great historical and artistic value.
Outside its main entrance there is a statue in honor of the late Pope John Paul II.
The cathedral is open to the public from 8 AM to 5 PM. Entrance tickets are purchased at the southeast corner of the cathedral. Daily Mass is held Monday through Saturday at 5 PM and Sunday at noon and 5 PM.