Dominican National Pantheon 3D Model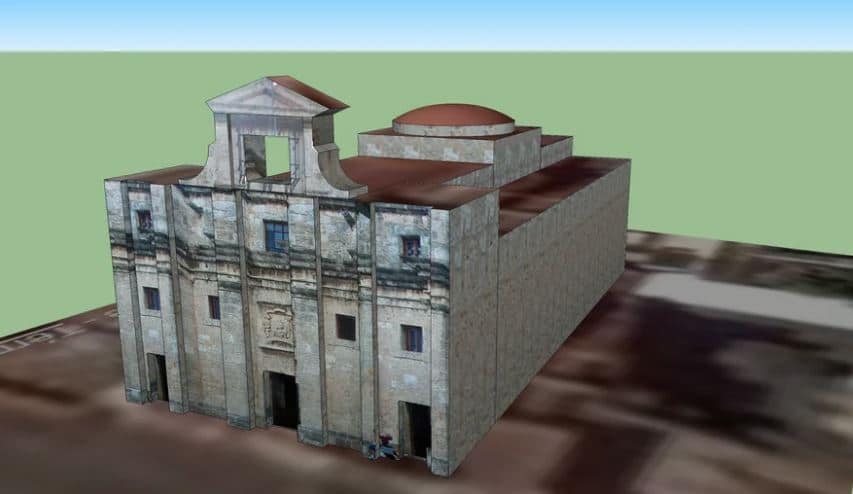 Dominican National Pantheon
Visiting the Colonial Zone of Santo Domingo you can find all the most important historical monuments of the Dominican Republic, among which you can find in Panteón Nacional or Panteón de la Patria, the mausoleum that houses the physical remains of the greatest Dominican heroes.
Located on Calle Las Damas almost at the corner of Calle Las Mercedes, this huge gray limestone building has three naves and a neoclassical Renaissance style.
During the 18th century, this mausoleum belonged to the Church of the Jesuits, and later became a tobacco warehouse, a theater and government offices.
In the mid-20th century, it became a space to honor the most distinguished citizens of the Dominican Republic as declared by the tyrant Rafael Leonidas Trujillo. The expensive remodeling was done by Spanish architect Javier Borroso.
Its impressive interior in baroque style stands out for its mural where it is found symbolizing the Ascension to Heaven and The Final Judgment.
The enormous chandelier hanging in the central nave of the mausoleum was a gift from the Spanish dictator Francisco Franco.
Under the chandelier, there is a flame that burns 24 hours a day.
The National Pantheon is guarded by an honor guard belonging to the presidential guard battalion and is dressed in full regalia.
It is open to the public from Tuesday to Sunday from 8 a.m. to 6 p.m. Admission is free.