Cabrera: Top 6 Amazing Places to Visit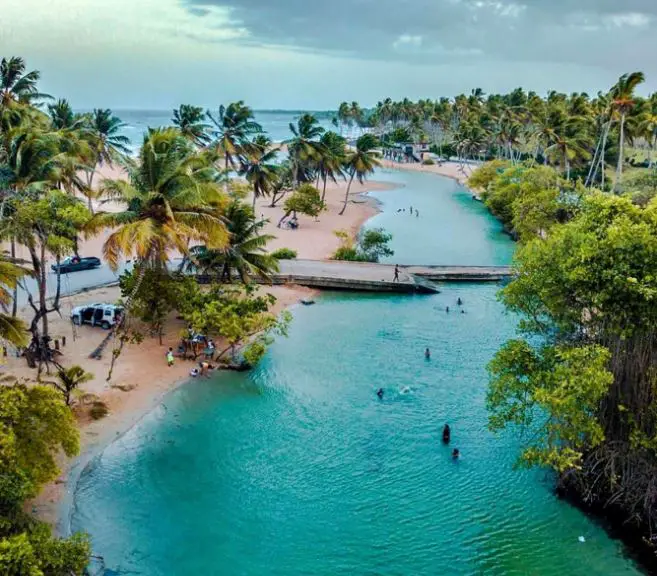 Cabrera is one of my favorite places in the whole Dominican Republic, despite being a place with incredible natural attractions, it is not a very touristically exploited place, but that is precisely one of the things I like most about this city, its attractive places are usually quiet and not overcrowded with people.
Cabrera, located in the Province of Maria Trinidad Sanchez, right on the north coast of the country, between the Scottish Bay and Espaillat. This place has it all and is super close: beaches, caves, lagoons, streams, and rivers, all just a few minutes away.
1-Laguna El Dudú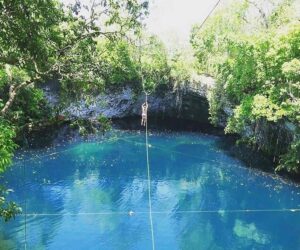 Laguna el dudú is a recreational park with two freshwater lakes, very close to Diamante beach, only 25 km from Nagua, and one of the ideal places to practice speleological diving since the two bodies of water are directly connected through subway tunnels.
This place has a depth of 32 m and is surrounded by a dense forest that covers the surrounding ravines. Entrance to the lagoon costs only RD$200 and is open to the public daily from 8:00 am to around 6:00 pm.
In El Dudú there is a very famous zipline, from which many have jumped to fall into the water from a height of approximately 10 meters. Trying the zipline can be an exciting adventure, however, if you do it, do it with caution, as falling incorrectly from that height into the water could cause injury to the body.
2-Laguna Azul (Blue Lake)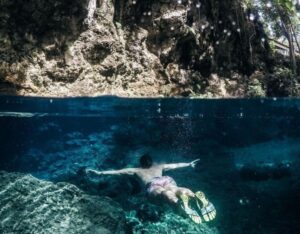 this place is located a few minutes away from Laguna Dudú. This small lagoon of very blue and crystalline waters is a natural pool formed in the same archaeological and aquiferous conditions of the previous one.
"Agua Azul", as its name indicates, has pleasant and freshwater of a turquoise blue tonality, it is close to 40 feet deep, but because of its clarity, it is possible to observe the bottom.
It is said that the blue color is due to the fact that its waters are subway and at some point are related to the sea, and the fauna that lives there is introduced.
As you get closer you realize how nature has been patiently working to create a pleasant environment with incredible details. If you look up, at the edge of the grotto you will notice that some trees decided to extend their roots to touch the ground (if it were inside a cave and as a result of water filtration, those would be stalactites).
The water is transparent and at the same time exhibits a clear blue hue. The entrance to the lagoon is on the Cabrera-Nagua highway, very close to the Arroyo Salado beach. As it is private property, a small fee of $100 pesos (2 US$) must be paid to gain access.
3-El Saltadero River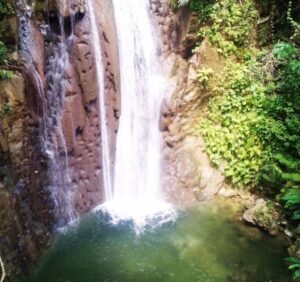 Almost in the center of the town, at a detour from the highway, is located the ideal place for those who like an adventure.
It is the El Saltadero river, as its name says, this riverbed is adorned by a waterfall that forms a pool of green tones, which can only be accessed through stairs built for better access to the spa, whose entrance is free.
In this place, you can usually find a group of young people who dive from the top of the waterfall to fall into its waters dazzling its visitors.
4-Catalina Natural Pool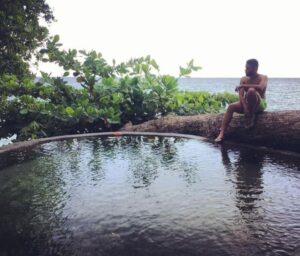 These are three beautiful natural pools, which are supplied with water that comes directly from the mountains, in front is the beautiful Atlantic Ocean, which provides a view of a breathtaking landscape and to reach them you must descend a few steps (240 approximately).
The pools are not deep, which makes them an ideal place to share with your family and spend a pleasant time in the shade of the trees and refresh yourself in the cool waters.
5-Arroyo Salado or La Boca Beach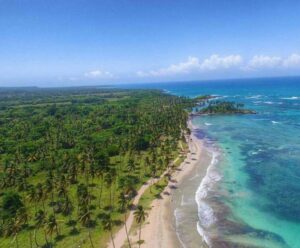 Arroyo Salado, La Boca or La Entrada are the names by which this beach in the municipality of Cabrera is known. It has more than 4 kilometers of white beach adorned by hundreds of coconut trees next to the mouth of the Arroyo Salado River (the beach and the river kiss in La Boca), which offer a unique set and a pleasant atmosphere for those who enjoy being in contact with the nature of the place. "This is a must-stop on your next visit to Cabrera".
Access to this beach is very easy, the road is in perfect condition and upon arrival, you will find several restaurants offering typical food, as well as fish and seafood to taste right under the coconut trees.
The beach is clean and calm, seasonally the tide tends to rise, but almost all year round is kept in good condition. Just in front is the Arroyo Salado river, surrounded by beautiful mangroves where you can take a refreshing swim in freshwater.
6-El Diamante Beach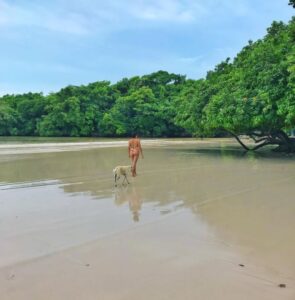 This beautiful beach is located about 10 minutes from Laguna Dudú in the center of the municipality of Cabrera. Known for its shallow and calm waters without many waves, it is a favorite for those looking to spend a pleasant moment. Its surroundings are bordered by extensive vegetation.
It is one of my favorite beaches, few people visit it, it is beautiful, it is safe to visit with children, the profile forum of this website is on this beach, Yulian was able to swim in all areas of the beach, and I did not feel any fear because the beach is very calm and shallow.
The beach can go unnoticed when you come from the road because of the shallow depth of its waters, plus it is not visible from the road, it only has a sign that is not very big and to get to the beach you must enter through a small street.
An ideal beach for water activities such as snorkeling or kayaking. Nearby there are several businesses that provide food and beverage service.