5 Beautiful Rivers To Visit In Puerto Plata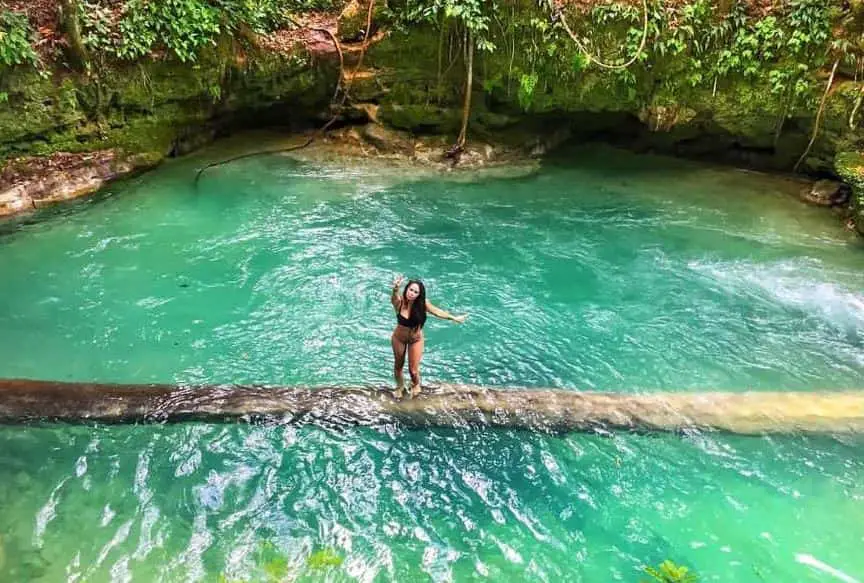 One of the Dominican Republic's richest provinces in terms of natural resources is Puerto Plata. This place, for years, has been one of the main tourist destinations of the half-island as it is located on the north Atlantic coast of the country and has stunning beaches and rivers.
Here are five recommendations of rivers in this province to take into account in your next visit to the area. Each place has a unique beauty that makes it special.
1-Sonador River, Yásica, Puerto Plata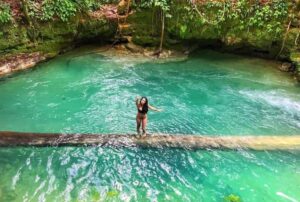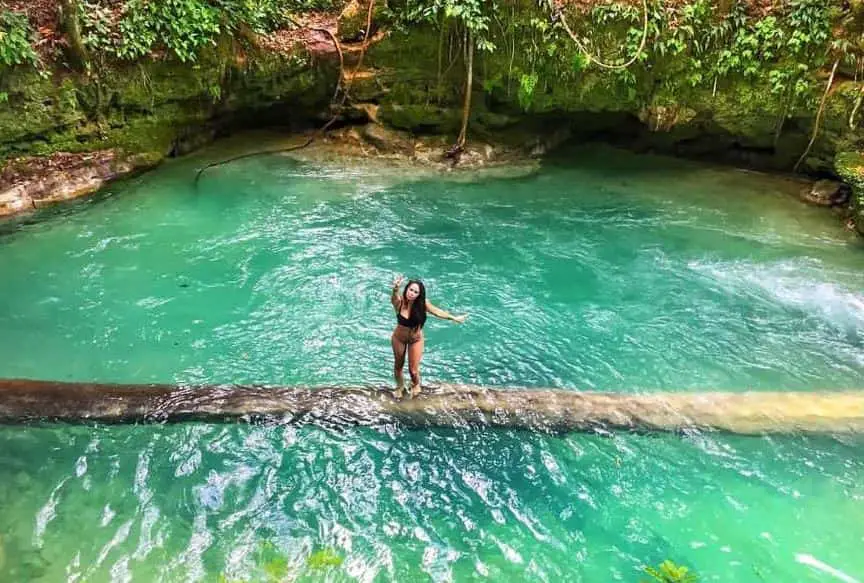 In the mountains of the municipality of Yásica, in the province of Puerto Plata, you will find this beautiful river of crystalline waters, very refreshing: "A perfect place to come with the whole family because of its low level of difficulty since we only have to walk 15 minutes in the mountain to reach its source," he says.
The river consists of three parts: El Palo, Cortina 1, and Cortina 2; if you continue further up you can get close to where it starts, but you must be very careful because some of its parts are deep.
This place is located within a private property and to access it you must pay RD$150 pesos to enter (3 dollars). To visit it is recommended that you arrive in a high vehicle because on the way to the farm there are ups and downs.
2. Charco Los Militares, Puerto Plata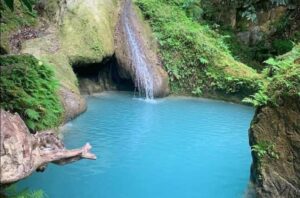 Another of the hidden wonders of Puerto Plata is undoubtedly the Charco de Los Militares.
This is one of those places where you literally feel in paradise thanks to the incredible vegetation and the turquoise blue color of its waters (according to the story this color is due to a mineral that lives in the rocks of the river). This place is located in the community of Tubagua.
It is a very pleasant tour, it does not require a great physical condition to enjoy it because the path to the river is mostly flat with some climbs.
Upon arrival, you will find three waterfalls, some deeper than the other and to reach them you will have to walk about an hour on a mountainous path; when you get there you will have to climb some rocks to cross to the other side, where the beautiful Charco de Los Militares awaits you for a swim in its turquoise waters.
The name Charcos de Los Militares is given by an urban legend told by the inhabitants of this town: they say that in the times of Trujillo's dictatorship a group of soldiers deserted, leaving their uniforms in the crystal clear waters of these puddles, which is believed to be the origin of its name.
It is recommended to visit the place with comfortable clothes and shoes, in addition to carrying water to hydrate yourself during the tour and a bag to pick up your garbage.
3. La Rejoya, Juan de Nina, Puerto Plata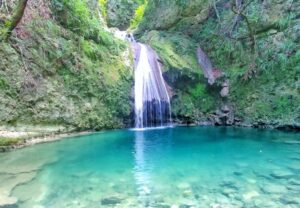 The Dominican Republic is full of treasures waiting to be discovered, and the beautiful waterfalls that guard the Camú River, in the community of Juan de Nina in Puerto Plata, are a sample of this, this is one of the many beauties that you can find while exploring this place.
A tour that is quite enjoyable if you are a lover of hiking because of the intensity that is experienced while traveling each stretch, because getting to them is quite a journey, but once you make it and you can swim in its crystal clear turquoise waters you feel that it was worth it; getting here is a wonderful and refreshing experience, an incredible experience.
If you come you must be prepared to walk for several hours, climb mountains and slide down some uncomfortable stretches; you have to cross the Camú River (approximately one hour) to reach La Rejoya, so it is advisable to come with an experienced guide who knows the route so you will avoid getting lost, besides being in good physical condition.
4. The 27 Puddles of Damajagua, Puerto Plata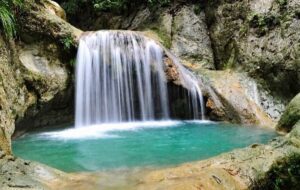 This incredible natural monument is located approximately half an hour from the city of Puerto Plata and is one of the main attractions of the city; here you can hike through hills full of thick forest and go jumping in the puddles and pools of the Camú River.
The tour takes approximately two and a half hours and at the beginning of the experience,
you will enjoy natural slides, caves and crystalline waters that descend from the mountain for a day of adventure and lots of fun.
The tour is accompanied by guides from the community and the use of life jackets and helmets is mandatory.
The tour has 27 waterfalls, you will have to choose how many jumps you want to do and the price will vary. The park is open every day from eight in the morning until three in the afternoon.
5. Martinico River, Sosua, Puerto Plata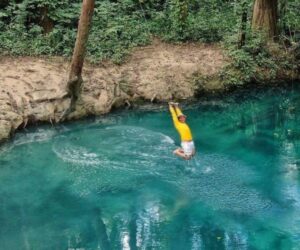 Sosúa is known for its beautiful beaches and few people know that in this municipality we can find rivers like this one.
This place is called Martinico River, located in Madre Vieja, Sosua, Puerto Plata. It is very visited by those who live in Madre Vieja and little known by the rest of the country. It is worth mentioning that if you visit this community, you will have access to the Yásica River. This river is easily accessible, it is right on the road.