Snorkeling in Punta Cana: Things You Should Know Before Coming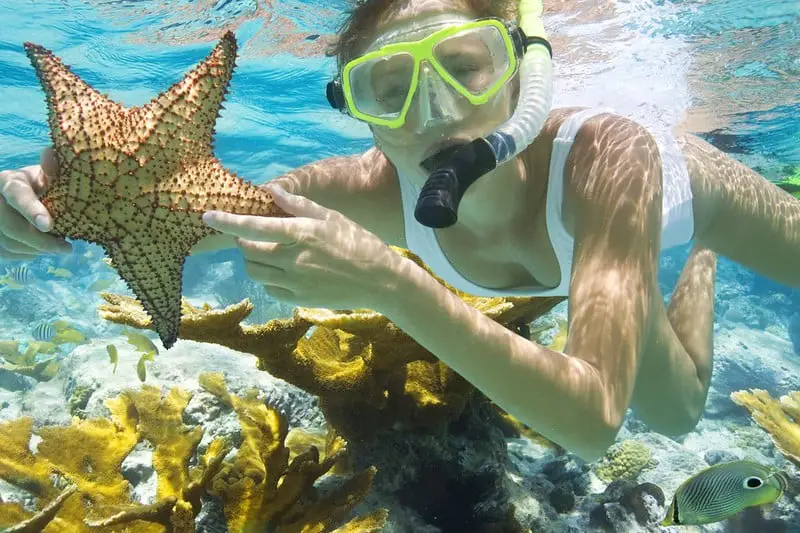 Snorkeling in Punta Cana, don't come with very high expectations
It is much better to come with low expectations and be surprised by the beauty of the places than to create very high expectations and leave disappointed.
Perhaps if you have already done Snorkeling in other places of the Caribbean such as Mexico, you would realize that in Punta Cana there is not much to see.
Let's not forget that the best coral reefs are in the Caribbean, and Punta Cana, although it is in the territory of the island of the Dominican Republic, is on the Atlantic coast, the best places to snorkel are to the south: Bayahibe, Saona, Catalina, which is already the full Caribbean.
The coral reefs of the Dominican Republic have suffered a lot from hurricanes, coral bleaching and diseases in recent years.
The Atlantic coast is generally a bit more raging and has more waves and waves. The best snorkeling conditions are on the Caribbean side and the islands of Catalina and Saona. Most snorkeling places have a sandy and coral floor.
There are excursions from Punta Cana to these places and in Punta Cana, there are places where you can make magnificent Snorkel excursions if you are a beginner, but if you are experienced and you are looking for the best to see you will not find it in Punta Cana.
Snorkeling in Punta Cana tips
In the hotels that include the snorkeling excursion, they provide you with the equipment to use as part of the excursion, but you may want to bring your own equipment for hygiene reasons, although this equipment is really well maintained and cleaned.
Most hotels that offer snorkeling excursion services have free lessons in the pool so you can learn the basics, so you can know if you would like to snorkel.
When you go snorkeling in Punta Cana, fill an empty bottle of small water with croutons and try to open the cap so that you don't get water. You will have all the small fish of different colors.
In a moment you will have around you. Very good water photos can be taken at that time with a water camera.
So that your glasses do not get fogged and enjoy the vision better, wash them before using any soap or gel.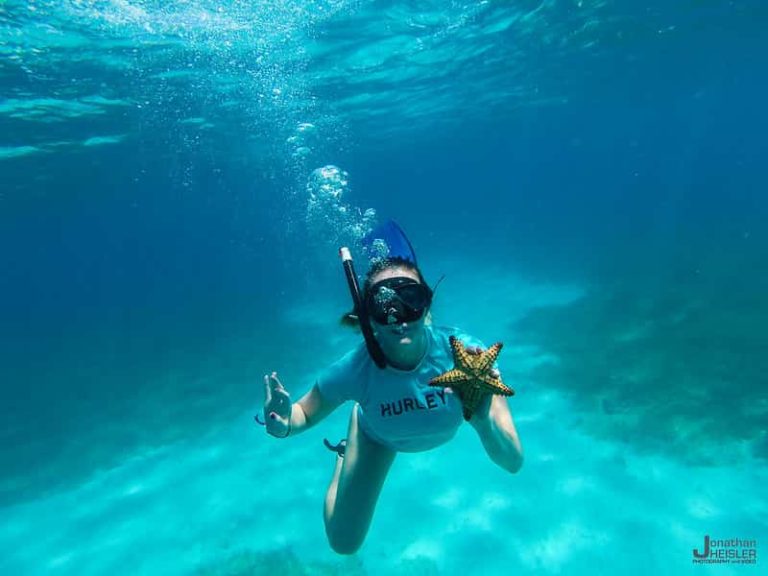 Punta Cana Snorkel is safe
Many of the worries about practicing Snorkeling in Punta Cana is about safety, many people are afraid of finding sharks in the water, don't worry about sharks. Unfortunately less remain.
It is quite difficult to meet any, and if you find it, the shark is more afraid of you than you are and moves away.
Or he can approach it out of curiosity, nothing more.
A shark can be dangerous if it is bothered, cornered, etc., you just have to apply common sense. the real damage has been done to this magnificent animal the movies and sensational reports. for your peace of mind, you most likely won't find any sharks.
The only thing you have to be careful about is snorkeling on very active beaches, where there are boats or vehicles with water motors, the agencies and hotels that organize excursions already have preselected the safest and most attractive places for this.
Recommended snorkeling sites in Punta Cana
The best places for snorkeling are not located along the beaches (sometimes very busy), but really on the sandbars and reefs just off the coast.
The best places in Punta Cana to snorkel from the beach are:
Cabeza de Toro beach
Playa Blanca (Punta Cana)
Arena Gorda beach
Natura Park beach
Cabeza de Toro is a spectacular bay for snorkeling also the natura park beach area, They have very good areas for snorkeling. One of the best recommendations is Catalina Island, it has beautiful coral reefs with hundreds of fish and endless views.
Saona Island, which is very close to Punta Cana, is one of the best places to snorkel, it has magnificent reefs.
And Catalinita Island (in the Atlantic) are spectacular places to snorkel in Punta Cana. All this with excellent visibility in general and little current, this area is very protected from the Atlantic winds, with very little waves and is the pure Caribbean.
Snorkeling excursions from Punta Cana to Isla Saona and Catalinita Island
There are many tourist boats that, after the day, tour Catalinita Island. Together with the best-known and largest Isla Saona, it is part of the National Park of the East, located in the southeast of the Dominican Republic.
Catalinita is an unsettled island of just 22 hectares and two kilometers of coastline, and which is easily reached by boat.
Despite being just four kilometers from Isla Saona, Catalinita is one of the most secret and unexplored places of the Dominican Republic.
The tourist usually throws himself to the first of the islands, leaving behind the attraction of white sand of little Catalina.
As a protected natural park, it has no structures on its ground, so it is completely a paradise of beaches (especially three) and grass and palm groves.
However, diving fans do have proof of their shallow coral reefs. Hence, most tourists who reach here do so attracted by being one of the quietest dive sites in the Dominican Republic.
In addition to coral reefs, the waters of this island hide some of the shipwrecks that occur on these coasts.
The divers take benefit of the crystalline aspect of its waters and the shallow depth of the reefs to enjoy a paradise difficult to match on the Caribbean coast.
The richness of the marine biodiversity of Catalinita Island is really large. Hence, if you plan to spend a few days in Isla Saona, we can recommend diving around Catalinita to discover a treasure under the sea.
Precisely many of the excursions that are planned to visit Isla Saona have an exclusive Catalinita stop.
These boat trips can be booked departing from Punta Cana, Bayahibe or Boca Chica, and prices range between $ 75 and $ 85 per person. As a common rule, food and drink are included in the price of excursions, Catalinita Island is possibly home to the best tropical landscapes in the area.