5 Amazing Rivers You Should Visit In The Dominican Republic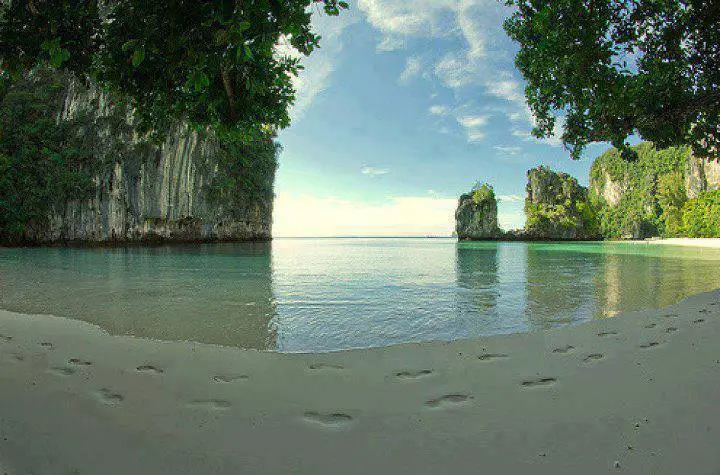 Among the great attractions of the Dominican Republic, are its beaches, rivers, lakes, and diversity of refreshing resorts, which have been conditioned so that Dominicans and foreigners can enjoy a pleasant time in its refreshing waters.
Here I show you five of the best rivers in the country, places that may not be so well known but contain incomparable beauty.
1. Balneario La Plaza en Bahoruco, Barahona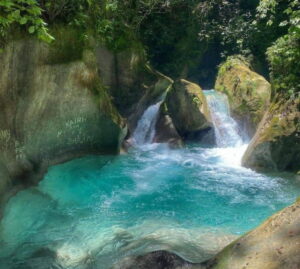 This beautiful river is located in La Cienega de Barahona in the area of Los Naranjos, and what makes this resort different from others is the crystalline nature of its waters. "While you are walking you will come across the different puddles that invite you to take a good bath inside them.
This tour can take approximately two hours and must be done accompanied by experienced guides from the community or groups that have previous experience visiting the same".
If you decide to visit it you should be prepared for the adventure, "I recommend taking a snack inside a waterproof backpack, go in comfortable clothes and tennis shoes that do not slip as it is a rocky and very wet route, likewise have a good physical condition as you walk for a while, while we walk we are refreshed in each stream that is put in front of us in addition to taking pictures.
If you decide to visit on your own you should make sure you do it in a 4 x 4 vehicle or a motorcycle since the journey is a little difficult.
This spa allows you to disconnect for a few long hours from the bustle of the city and share in its cold and crystalline waters.
2. Cola de Pato, Jamao al Norte, provincia Espaillat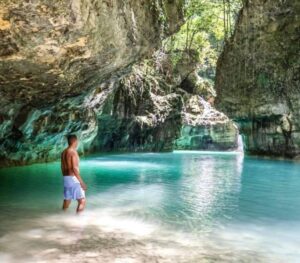 Our country is full of impressive places, many of them not very well known and full of a virgin nature that falls in love from the first moment to those who visit it for the first time, such as the case of Cola de Pato, a canyon of turquoise waters hidden in the heart of the mountains of Jamao.
In the North in the Province of Espaillat, a place that not many people know of its existence and its exotic natural beauty will make you feel that you are in a true paradise.
This place is one of the favorites for the most adventurous, people who like to experience real adventures, without fearing long hours of intense walking, jumping into the river from a rock that can measure up to 10 meters high and who immerse themselves in the depths of this natural paradise to enjoy a variety of rivers and pools that will leave more than one person shaken by the particular color of its waters.
To reach this hidden treasure, you need to be in excellent physical condition, since you have to walk approximately 10 kilometers between the two trips, climb a fairly steep mountain that can take you almost an hour to leave the place and head for the road.
It is advisable to go with comfortable clothes and tennis or comfortable shoes that do not slip easily so that the experience is as fluid as possible.
Once in the city of Moca, Espaillat Province, you take the road to the municipality of San Victor Moca, a road that will take you to the mountains of Jamao to the North.
Before starting to climb, do not miss the opportunity to taste the tasty cracklings typical of the area that adorn the streets of this industrious community, you will love them.
3. Río Partido, Provincia Hermanas Mirabal
One of the most beautiful rivers in the northern area is without a doubt, Rio Partido, known for its turquoise waters is one of the favorites for those who seek to go into the mountains and enjoy the waterfalls and streams that this incredible place has.
To reach it we can do it through Salcedo or Villa Trina in the Province of Espaillat and the journey to it is for people with an adventurous spirit, since we must descend a mountain that takes us approximately 40 minutes and once we descend, we reach the river where we begin to travel through the beautiful scenery that this inexhaustible place has.
If you come, you must do it in the company of guides to avoid getting lost and always wearing comfortable shoes and clothes to enjoy this experience to the fullest.
Remember to take a waterproof backpack with you since your belongings can get wet during the trip and also take a bag to carry your waste back with you.
4. Río Mata de Maíz en Polo, Barahona
This beautiful river is located within the Bahoruco Mountain Range in the community of Polo in Barahona. Known for its blue and cold waters, it is one of the places you should go if you decide to go and visit the southern part of the DR.
If you want to go independently, you should know that it is advisable to go in 4×4 vehicles, if you go in a normal vehicle, you will have to walk approximately 40 minutes through narrow and steep trails, it is an ideal place to rest and refresh yourself and you can visit it with the whole family.
After arriving to Mata de Maíz, remember to explore upstream so you can enjoy the puddles and waterfalls
5. Cascada de Arroyo Grande o Salto Los Bueyes en Espaillat
This beautiful waterfall of more than 7 meters high is located within the community of Los Bueyes in the heights of the Province of Espaillat, known for protecting the most beautiful rivers within its mountains.
This waterfall is a jewel of nature, it has crystalline and cold waters and is surrounded by beautiful vegetation that will make your stay there one of the best.
The pool where the waterfalls from the waterfall have deep parts and others not so deep, which makes it suitable to go and enjoy with the whole family.
To get there you will have to do it in a 4×4 vehicle since the path to it is rocky, but if you do it in a normal vehicle you will have to leave the vehicle in the high part and descend in a walk that at a slow pace takes us approximately 2 hours down the mountain.
It is advisable to wear comfortable clothes and shoes and to take snacks for the journey.