The Most Secluded and Hidden Beaches In The Dominican Republic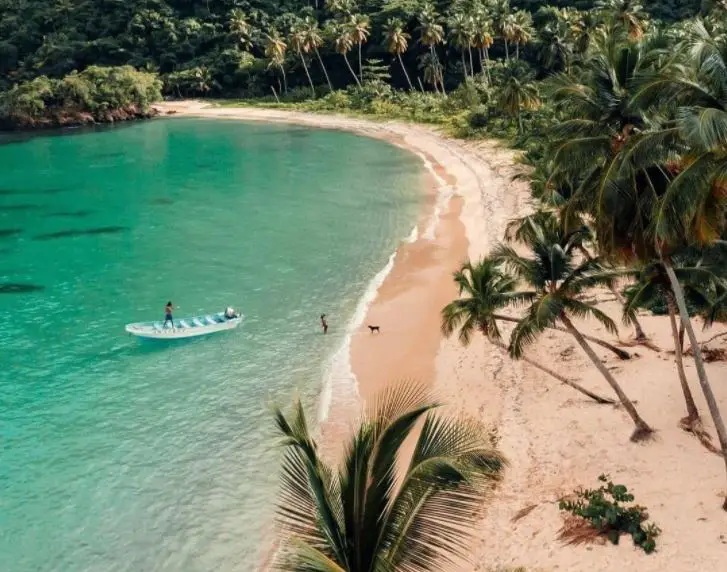 The Dominican Republic is a country with a large number of beaches that are a great tourist attraction for both tourists and locals, but if you are one of the people looking for a totally isolated and secluded beach, just as quiet and beautiful, here is a list of the most isolated beaches in the Dominican Republic.
These beaches are found in all areas of the country, remember to be prepared to visit these places, most of these beaches are totally isolated, you should bring drinking water, appropriate clothing and in some cases be accompanied by a local guide or a person who knows the area very well.
Beaches in the deep south of the Dominican Republic (Pedernales)
The south of the Dominican Republic is the least developed tourist area of the country, but with beaches that have nothing to envy the other areas, totally secluded.
In the province of Pedernales, there are 13 beautiful beaches, all these beaches are isolated and beautiful, this province has the smallest population in the whole country.
Thirteen paradisiacal beaches in Pedernales:
Blanca Beach
Trudille Beach
Larga Beach
Corta Beach
Chiquita Beach
Caliente Beach
Caribe Beach
Bahía de Las Águilas Beach
Cabo Rojo Beach
Bahía Honda Beach
San Russell Beach
Jardín de Coral Beach
Bucanye Beach
lying on a bed of 38 kilometers of white sand and 25 kilometers of cliffs.
Bahia de las Aguilas is one of the most beautiful beaches in the Dominican Republic and probably in the world, where its environment still remains totally unspoiled by human intervention.
It is practically agreed that the part corresponding to Bahía de las Aguilas should be preserved without any type of intervention, but it cannot be postponed that regulations be created so that with the development of other areas, Pedernales begins to emerge as one of the most coveted tourist spots in the Caribbean.
Trudille Beach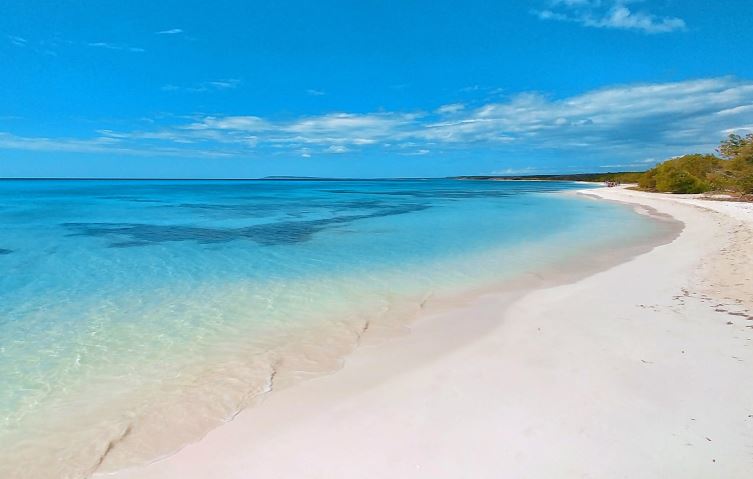 Trudille is one of the most beautiful and secluded beaches in the Dominican Republic, as well as Blanca beach.
Trudillé is a small fishing village in the south, a remote place, a journey into simplicity, where there is no drinking water, no grocery stores, no electricity except in the army hut.
Getting there is no easy task, but it is worth it. You walk from the Oviedo hut through the Jaragua National Park for 4 hours on an irregular road of eroded limestone rock, which is called dogtooth, so you have to go in good shoes.
It is not recommended to make the journey in one day, the hike is very heavy and much more when it is done at noon since the shade on the trail is scarce.
It is advisable to do it in 2 or 3 days to really enjoy it.
After you are in town you must walk about 25 minutes if you want to get to Playa Blanca and 45 minutes more to get to the mangroves of Bucánde Tui.
Another alternative is to go by boat from Cabo Rojo for about 3 hours.
To visit these places it is best to find someone to guide you on the way.
Canto de la playa Beach (Isla Saona)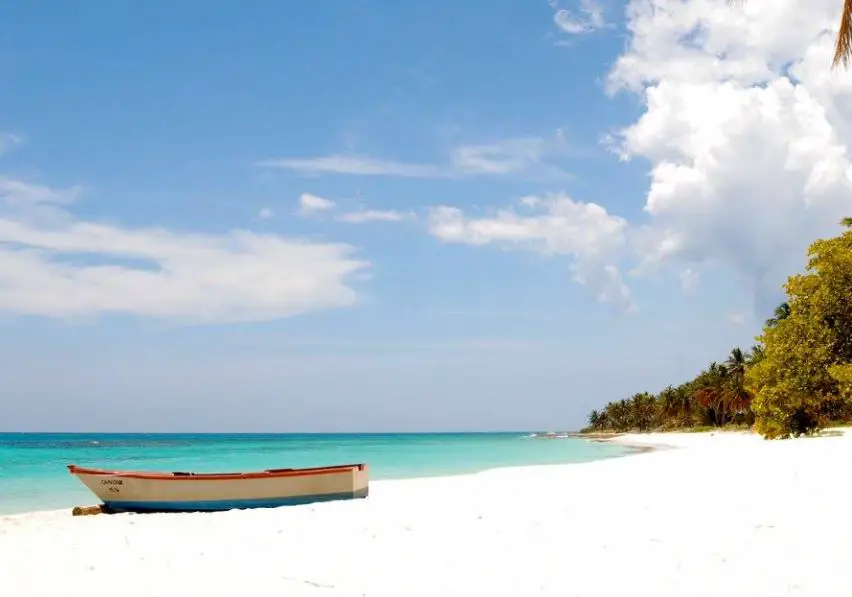 Of all those on Saona Island, Canto de la Playa beach is perhaps the most secluded destination in the Dominican Republic.
If you are looking for a quiet, remote beach this is an ideal destination, it is a beach not frequented by both tourists and locals, because of the difficulty of reaching it.
Ermitaño Beach (Samaná)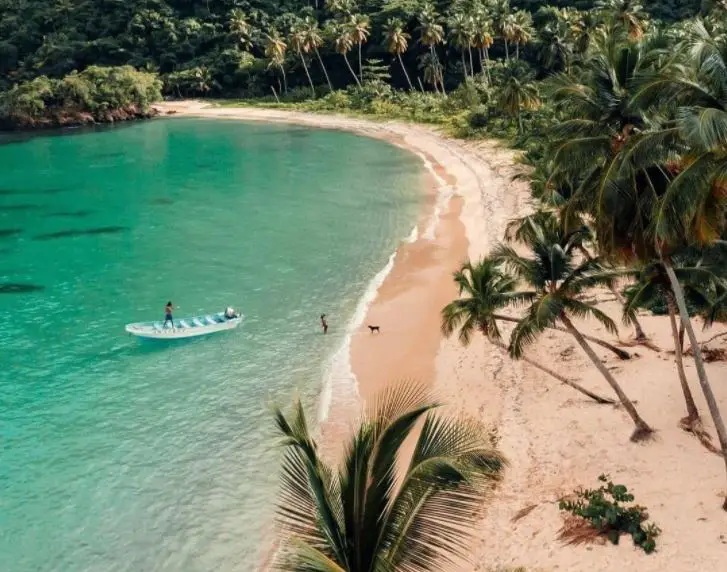 Ermitaño beach is located in the town of El Limón, on the Samaná peninsula. This isolated beach is approximately 400 meters long and is surrounded by reefs.
Its access is very complicated, it can be accessed on foot, after a long walk through fairly thick vegetation and very hot, but it is undoubtedly an effort that is really worth it.
Another faster option to access it is by boat, but it is not as exciting and full of adventure as the previous one, since the contact with nature is more noticeable walking among those trails.
Juanillo Beach (Punta Cana)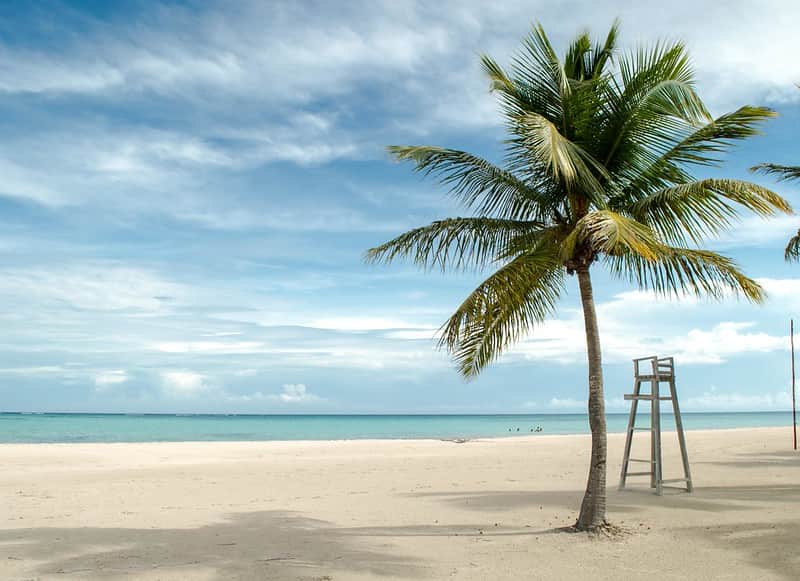 Juanillo Beach is located south of Punta Cana and is considered one of the most beautiful beaches in the area.
This beach is considered one of the most exclusive areas of Punta Cana, although access to the beach is not private you have to pass a security check at the Cap Cana Resort, to access it. Showing your driver's license or identity card gives you access.
In addition, because it is a little far from Punta Cana, its isolated location makes it a unique beach, as it is not crowded with tourists.
Los Guardias Beach (Rio San Juan)
Los Guardias Beach is located in the municipality of Rio San Juan, in the province of Maria Trinidad Sanchez, in this area, there are many beaches in the urban area, some are more visited than others.
What I like about the beach of the guards, is that unlike the other beaches of this topic, it is very easy to access, you can reach it walking without any problem.
Perhaps it is not the most isolated beach, but it is really very little frequented, this beach is located between other beaches, it is located at the end of the street, its atmosphere is very private and people for some reason prefer to go to the other beaches.
Los Guardias beach is one of the most beautiful and quiet beaches in the municipality of Rio San Juan, its waters are very clear and its sands and the sunsets on this beach are spectacular.
There is a volleyball court in the center to play, and the waters are super quiet, you can visit with children, the number of people who visit it is very low.