What Are The Most Deadly Roads In The Dominican Republic?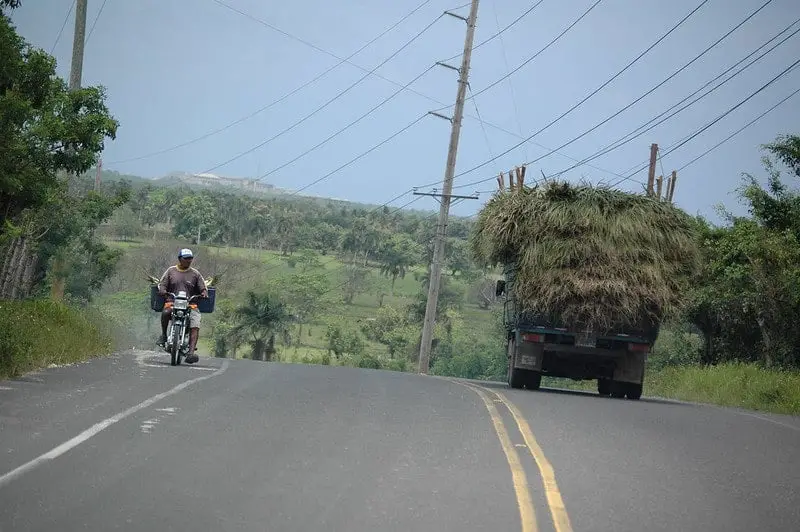 The Northeast Highway is the most dangerous road to travel in the Dominican Republic.
This is revealed by a survey carried out by the General Directorate of Traffic Safety and Land Transport (Digesett) on "the most critical sections due to traffic accidents on the main roads".
With 13 critical stretches, the Northeast Highway, which connects the provinces of Santo Domingo and Samaná, is positioned as the most risky to travel.
This is a route with a very beautiful landscape to admire, but it haves many sharp curves that are properly marked, but many drivers ignore the speed limit, when taking the curves at high speed the vehicle tends to lose control. 
Its most dangerous points are located in the kilometers: 1 to 6; 8, 11 to 21; 28 to 30; 35 to 36; 43 to 45; 50,55,63,68, 75 to 76; 80 to 83 and 89.
It is followed by the Duarte highway, with seven critical points identified in kilometers 9 to 18; 20 to 28; 38 to 47; 80 to 82; 90 to 100, 120 and 130.
The Sanchez Highway and the Las Americas Highway coincide in the number of riskier sections. In the case of the Sanchez, the dangerous points are located at kilometers 15 to 17; 19 to 24; 26 to 28 and 100. When driving on the Las Americas, the driver must be more careful at kilometers 9 to 14; 18 to 22, 28 and 44. 
November 6 is also among the most dangerous highways in the country with two critical sections identified at kilometers 4 to 13 and 17 to 26.
Dominican Republic road system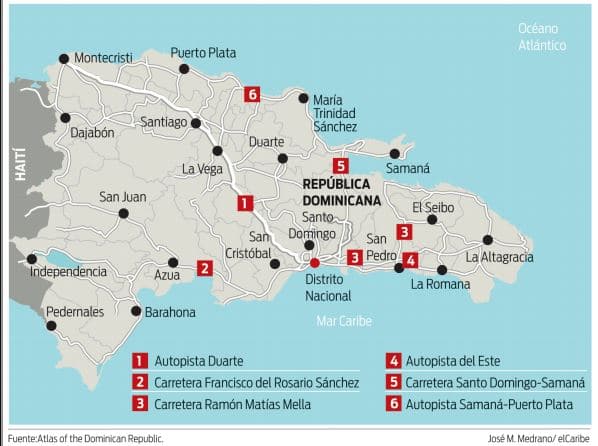 The main cities and ports of the Dominican Republic are connected by a network of highways, roads and country roads.
The Duarte highway links the capital with the towns of Cibao and connects with the secondary roads that go to the north, the Sánchez highway also leaves the capital and runs south to the border area with various branches.
The Utopista del Este borders the southeast coast and connects the tourist towns of Boca Chica, Juan Dolio and La Romana, among others, and the Mella highway connects Santo Domingo with the southeast towns.
The Dominican Republic is a well communicated country, its main regions and communities are equipped with highways, avenues, streets and neighborhood roads.
 In 1917, construction began on the country's first highway, the Duarte, which connects the northern or Cibao region with the capital. 
Later, after the U.S. intervention, subsequent governments continued to connect the country and the Sánchez and La Mella highways were created, connecting the south and east, respectively, with Santo Domingo.
This is how road communication began in the country and later the Duarte, Las Américas and 6 de Noviembre highways were built, which contributed to dividing the large number of vehicles that traveled on the main highways to reach the different regions of the country.
Main highways of the Dominican Republic
Duarte Highway
Sanchez Road
Highway 6 of November
Samana Highway
Pista las Américas Highway
Auto Via del Este
Sanchez Road
Coral Highway
Atlantic Tourist Boulevard
San Cristobal-Bani-Azua Road