Tipping In Punta Cana, What You Should Know Before Coming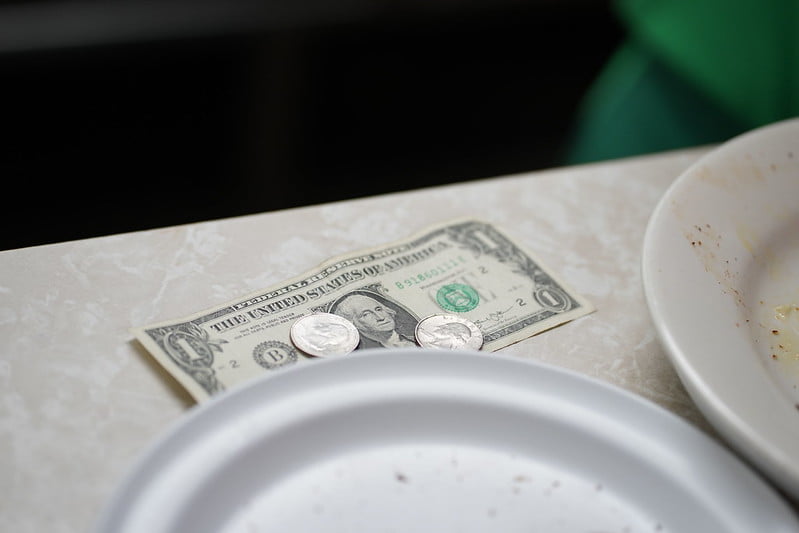 When making your trip to an all-inclusive hotel in Punta Cana, you most likely do not want to give the impression of you have money to spare but also of being a stingy and ungrateful person. 
If you would like to know details about the issue of tips in the all-inclusive of Punta Cana, including how much is a suitable tip (for example if they take my bags to the room), then this topic is suitable for you.
Is it mandatory to tip in an all-inclusive?
Tipping in Punta Cana is not mandatory, tipping is very personal, both giving them and how much to give, also if you can give them, you may travel with a tight budget and even if you want.
You may not be able to tip, or If you can tip they would be one dollar, that is more than acceptable.
You will not stop receiving excellent and exclusive treatment from the Dominican natives, because that is his main objective and they are trained to provide good service, tipping also depends a lot on the sensitivity of the person and the treatment and service that workers can provide.
You just have to keep in mind that a tip is something wonderful for hotel workers, and that these people have a very low salary. 
A tip is something that motivates them and contributes to the maintenance of their family, no matter how small the tip could be, it is a great contribution, whenever you can give Tip who deserves it.
How and Who should be tipped in an all-inclusive?
To the person who makes the room, you can leave the tip on the table, or on the bed, you must write a note of thanks signed with your name. 
Specifying that the money you are leaving is for tip of that person, otherwise the person will not take it, or you can give it directly to her if you see her, even if seeing her is a bit unlikely.
And on excursions like, if you go to Samana for example, give it to the local guide who helps you on the road with the horse.
Just follow your intuition, tip those who feel they deserve it, for having done a very good service, and also that you have not felt pressured to give it.
The bar waiter that you most frequent, this can recommend you a good drink or prepare it very well, in general, any hotel worker who offers a service deserves a tip according to their performance and attention.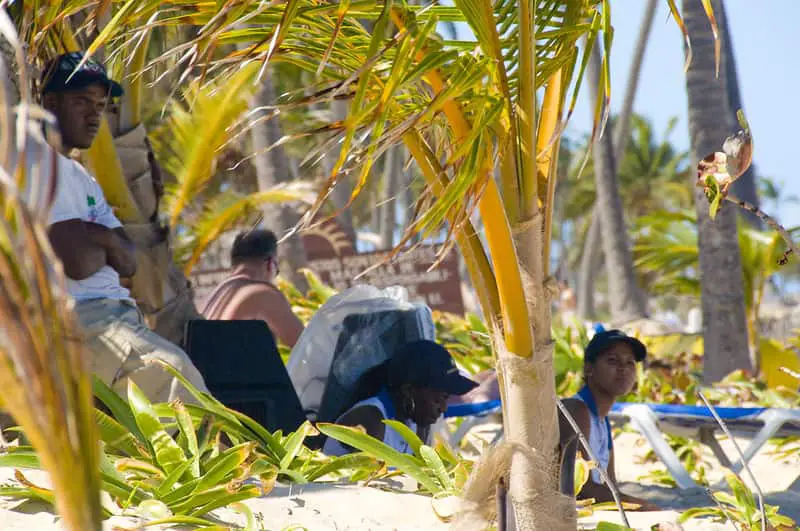 How much should you tip in an all-inclusive in Punta Cana?
Almost all the tourists that I have met in the Dominican Republic are grateful people and want to correspond with the people who offer a service.
Although the issue is a matter of each one, according to the service received The usual thing that many people do is the following:
• When you arrive at the hotel, you may be transported with a cart similar to those of golf along with your luggage to the villa or room assigned to you, a dollar is usually given per large suitcase.
• In the room service, what is usually done is to give one dollar per person per day (it could be a good idea, the first day to give the waitress 5 dollars on account of the final total), so you get your room always done first thing, in addition to finding natural flowers in the room and the bathroom.
• The same is accurate for the waiter who serves you breakfast when they serve you at the bar tables, a dollar in total for them enough. In thematic restaurants, it depends on the service they offer you, but between 2 and 5 dollars, you are fine.
Making accounts for two people with a  6-day stay would be about 30/35 dollars in total. 
Of course, you can give more and some give less, but considering that these people are working 7 days a week. 
Their salary is not very large, without social security and displaced from their town, where they have their family that does not They can go to see more than once every 3/6 months and yet they always serve you with exquisite kindness, they deserve to receive help. At least that's my idea.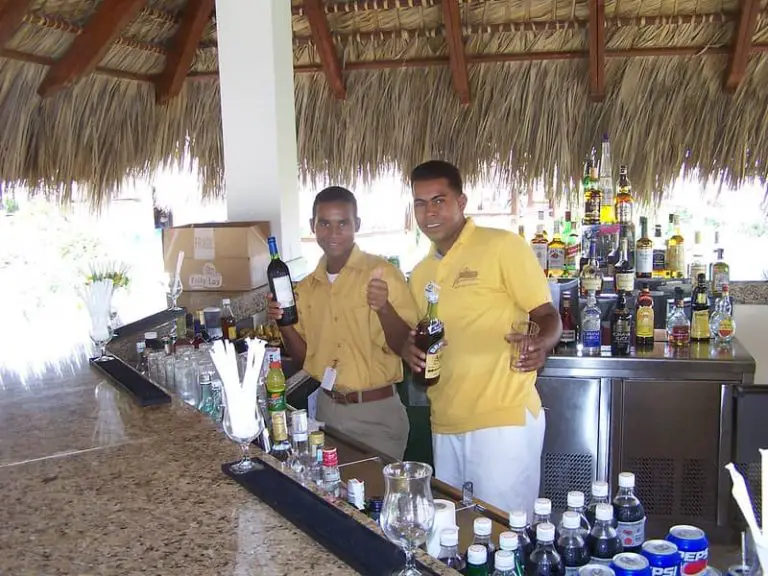 Just remenber, for tips in Punta Cana there is no preset parameter because the tip should go parallel to the treatment or service and attention received. Not all butlers, bartenders are the same and offer the same service.
It is recommended that you be the one who decides how much to tip as you have been treated.
Should you tip in dollars or Dominican pesos?
As they most appreciate it is in Dominican pesos since they save having to change, they have the money available to use it immediately, otherwise, it is indifferent euros or dollars. 
You must keep in mind that the coins are not changed, only the bills, Therefore, it is appropriate to leave a tip on one dollar bills upwards, 5 dollars, which at the current exchange are approximately 255 Dominican pesos, is a very good tip.
In the Dominican Republic the restaurants already include the tip in the bill
If you are going to eat outside in Punta Cana or in the Dominican Republic in general, it is perhaps important that you know. 
The law 16-92 on the Labor Code in the Dominican Republic establishes in its article 228 that in commercial establishments where "food or drinks are sold for consumption in those same places," it is mandatory for employees to add ten per One hundred percent tip on customer accounts. 
" And it mandates that these funds be "fully distributed among the workers who have served."
This means that they are already charging you a 10% tip on the restaurant bill, and that money is supposed to reach employees directly, the truth is that some restaurants give this percentage of tip to their employees, and others don´t.
dealing with "tip hunters"
Like everything in life, you probably have to deal with some "awkward situations" and this would be the case with some "tip hunters", these are people who will approach you with the main objective of obtaining a tip, which It becomes a little awkward situation because it feels all forced.
I remind you that in the Dominican Republic, salaries are very low and people do what they can to complement their work, besides, most natives do not assume that a tourist is usually a person who works hard for a whole year to vacation. 
Some people will approach you with the intention of offering a "favor" but in the end, it will result in a service that you should pay for.
This is the famous case of airports when you arrive some come to take your bags "for help" if you are not available dealing with these people a simple "NO THANKS" will be enough if they insist repeat the same answer and go your way.
tipping can be complemented with other things
Apart from the tip, you can give any other present material, it can be something that is no longer useful to you, or some cologne, cream, or garment. 
Just remember, that this would be complementary to the tip you can give and you must have if you are going to give something away, write a personal note so that the worker who receives the gift has no problem at work.
Be grateful, show a smile, if you master a little of the Spanish language you can make a compliment to the service or work of the person who serves you, everyone likes to be recognized, all this is considered as a complement to a tip.
Be patient with the service in the beach and restaurants, remember that it is not fast food service, the natives could consider a bad gesture to rush them in their work that sometimes becomes overwhelming.