Samaná Complete Guide- Best Things To Do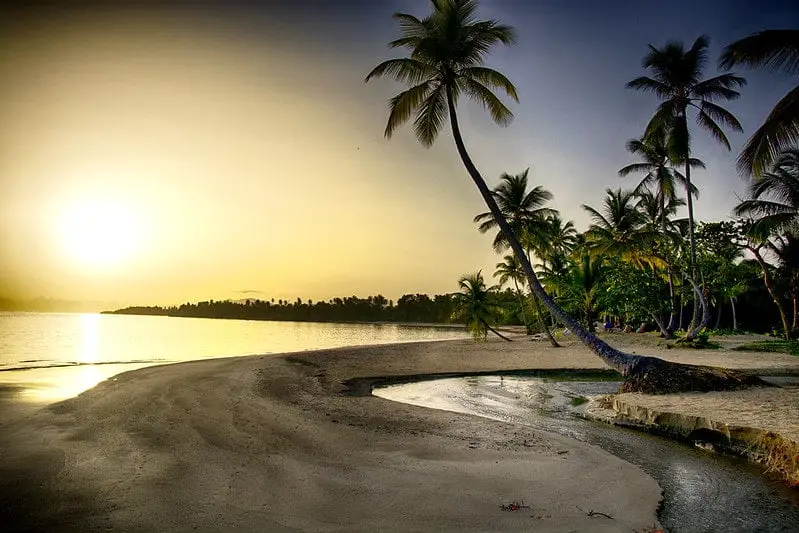 Samaná is one of the 32 provinces of the Dominican Republic, it limits to the North and East with the Atlantic Ocean, to the South by the Bay of Samaná and the province of Monte Plata and to the West by the provinces of Duarte and María Trinidad Sánchez.
Created on June 4, 1867, as a tourist district, Samana carries the indigenous name of the region.
It has an area of 853.74 square kilometers and a population close to 95,000 people.
Santa Barbara de Samaná is the main city in the region with approximately 52,000 inhabitants. Las Terrenas and Sánchez are other known municipalities of the peninsula.
The main economic activities of the province are tourism, agriculture, and fishing although there is also a small mining development producing marble. The main agricultural products are coconut and yautia.
It is a province of great tourist development in the centers of Samaná, Las Terrenas and Las Galeras. In recent years there has been a remarkable development of the observation of humpback whales that come from the area in mid-winter and spring.
In this complete guide I will show you the best places to visit and things to do in Samana.
Samaná Weather and things to bring
Samaná has a humid subtropical climate with an average annual temperature that oscillates around 25 ºC with slight variations between the seasons.
The fact that it has such a pleasant climate throughout the year has made Samaná in particular and the Dominican Republic, in general, an increasingly popular tourist destination.
The coolest temperatures occur during the months of November to April and the warmest ones take place between the months of May to October but without excessive variation.
The period of greatest rains occurs in the months of May and November, although rainfall is fairly spread throughout the year, the average water temperature, 26 ºC, is ideal for the practice of all types of aquatic activities.
As for the right clothes, it is advisable to wear comfortable and comfortable clothes, bathing suits and towels, a cap and sunglasses, and above all a sunscreen, since the sea breeze and the north-east smoothing winds soften the heat, causing a false sensation that can burn the skin. It is useful to wear a long-sleeved garment for rainy days and for night outings. We also advise you to wear some long pants in case you practice any activity such as horse riding or to make certain excursions.
Samana things to do
Salto del Limón excursion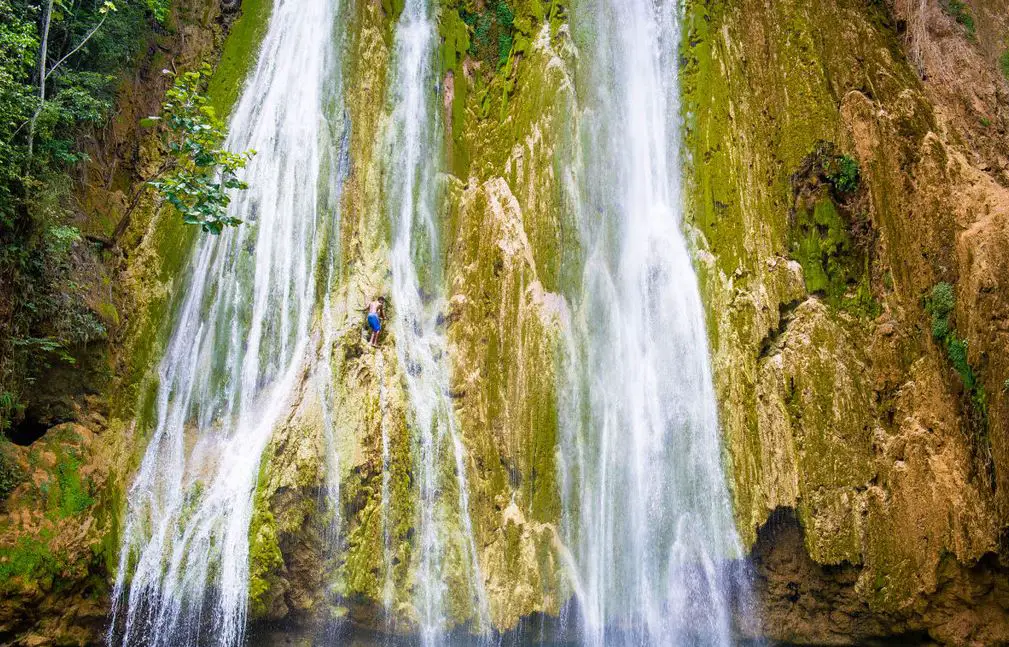 If you are going to travel to Samana, sign up on your calendar for an excursion to Salto del Limón, a waterfall of approximately 40 m. high that culminates in a pool of fresh and crystalline waters where you can take a totally relaxing bath.
The Salto el limón is about 300 m away. from sea level and its route can be done either on foot or by riding a horse or mule on a journey, between one and two hours, through dense tropical rainforest. The "El Café" Trail is normally used to reach Salto del Limón, a trail with many stops where you can buy typical Dominican food and drinks as well as local products such as coffee, cocoa, grapefruit, coconuts, and handicrafts.
The landscape around Limón is beautiful, with small houses painted in bright colors and usually made of wood that lines the streets and the landscape. The Waterfall originates at the point where the waters of Arroyo Chico descend to flow into the Limón River.
The area occupied by this protected area is 18 square kilometers. It is reached by the road from Samana-El Limón-Las Terrenas. From Santo Domingo it is accessed by taking the Duarte highway, passing through Nagua until reaching Samana. From there you take the road to Limón, From Punta Cana, excursions are made to salto el limón by plane
Los Haitises National Park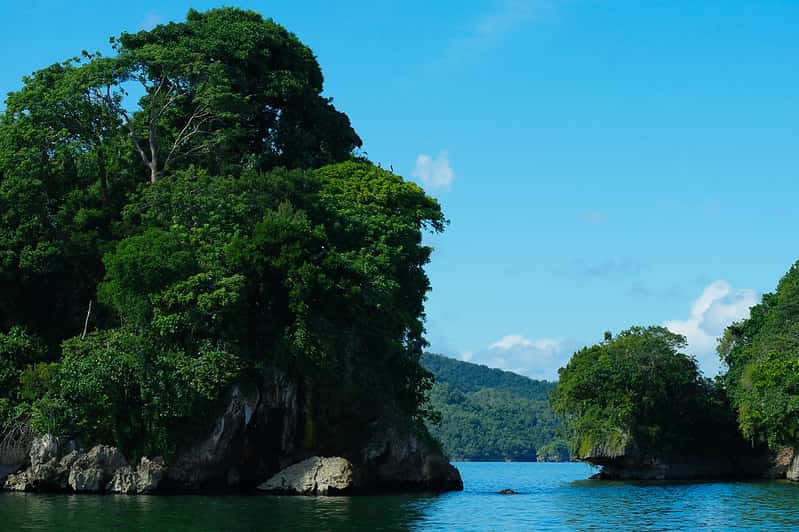 Los Haitises National Park is undoubtedly another essential place to go. Its name means high land or mountain land, although its mogotes reach 40 meters high.
This park is a large protected area where the Yuna river and the Barracote river flows. To explore its surroundings you have the possibility to go by kayak or boat among its mangroves and visit its cave system. These caverns have samples of pictographs and petroglyphs such as La Línea cave, San Gabriel, and Arena cave.
The ecosystem in Los Haitises is an ideal place to conduct research on its fauna and flora. Not only do they inhabit a great variety of the country's characteristic fauna, but there are two of the most endangered species in the Dominican Republic, the Gavilán de la Hispaniola and the Manatí Antillano. You can enter the forest in search of animals and find some very curious. You could also identify several birds around and snorkel.
Rincón Beach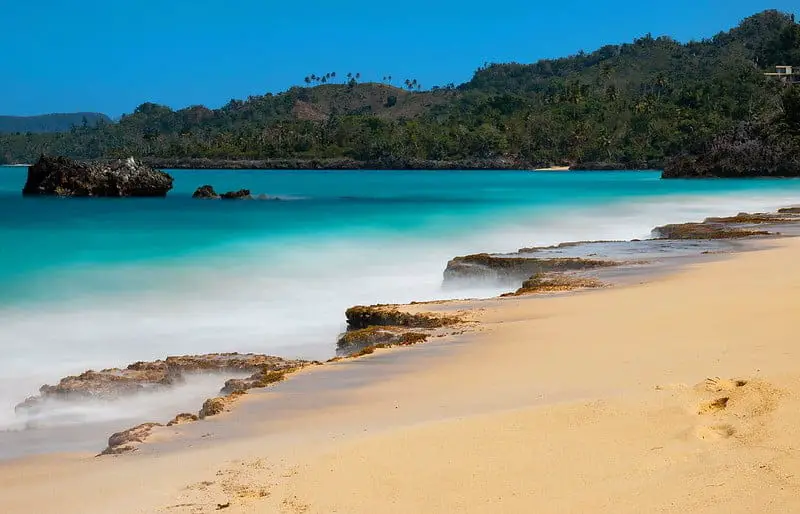 Rincon Beach, located in Las Galeras, is considered among the ten most beautiful beaches in the world for its natural conditions, fine white sand and turquoise blue water are surrounded by thick and unique vegetation.
From Samaná, you leave for Playa Rincón, driving along the road that connects with the Galeras or departing from there on horseback through the mountains. An additional alternative full of adventure is through the sea. Boats are boarded, either from the town of Las Galeras or from some hotels in the area that offer a tour to the beach.
The shores of Rincón beach are ideal for water sports such as sailing and windsurfing. It is characterized by being practically deserted, with the typical small hotels around, as well as those that offer the 'all-inclusive' system.
El Portillo Samaná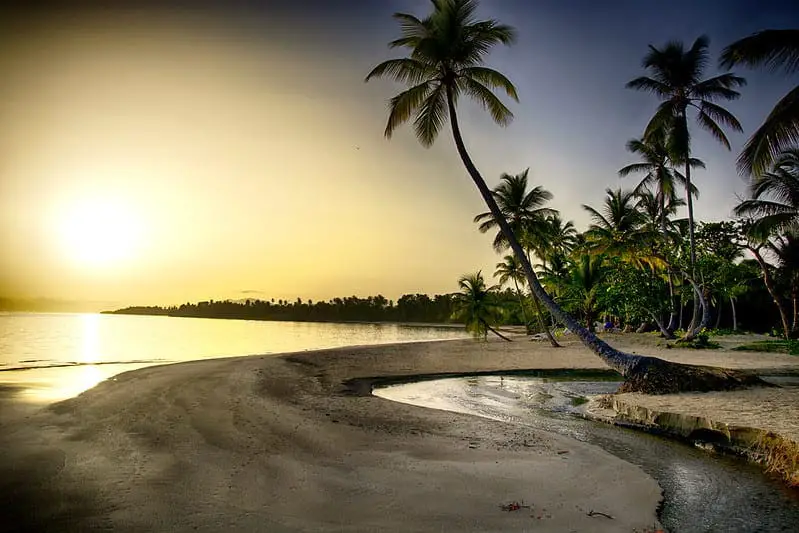 A few kilometers from Terrenas is El Portillo, an area of ​​the beautiful northern resort of the Samaná Peninsula, where one of the best resorts in the region, El Portillo Beach Club, with cabins and buildings with comfortable rooms and facilities for the practice of Water sports very diverse, its crystal clear waters invite you to practice underwater fishing.
A beautiful beach of fine sand, el Portillo beach, is an integral part of the complex, which has a five-star hotel, the Gran Bahía Principe El Portillo, decorated in tropical style, enjoying an idyllic and peaceful atmosphere. It has two restaurants, bar-cafeteria, heated pool, jacuzzi, hairdresser, disco, parking, internet access, and more services.
Prince town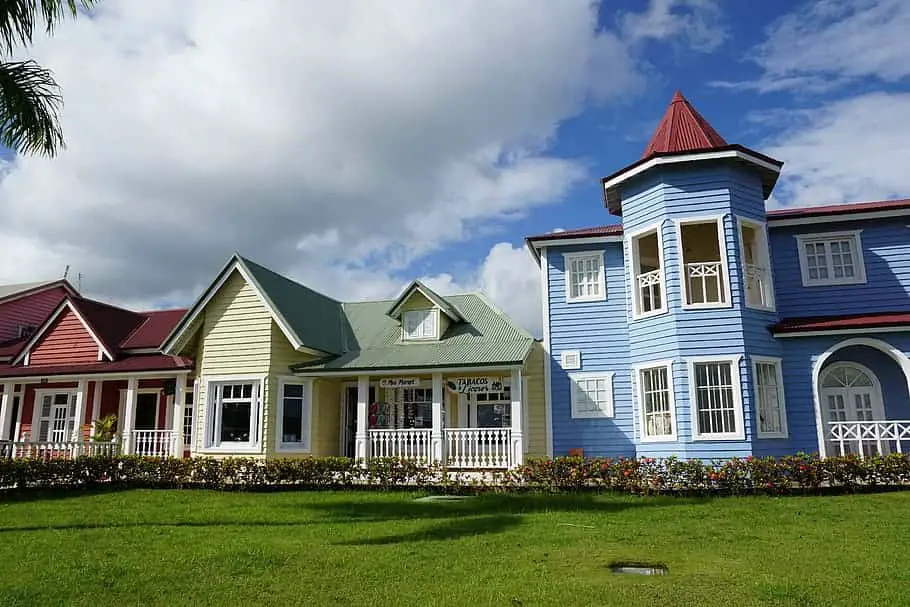 Prince Town is located on Marina Avenue, this avenue is an emblematic image of the city. You will see wooden houses of different colors, which are from the colonial era. Today they are shops, pharmacies, mini markets, etc.
Samana boardwalk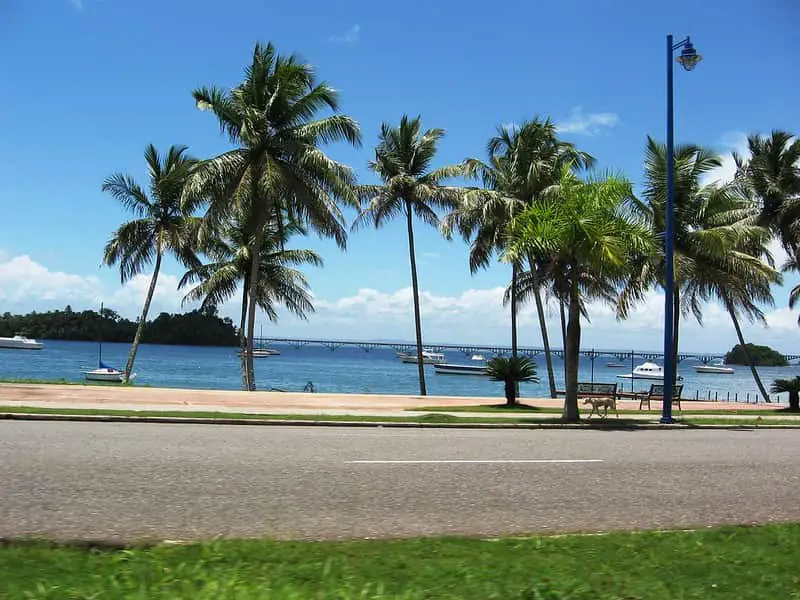 On the walk along the boardwalk, you will enjoy the view of Samaná Bay. While you rest on one of the benches, you can see the boats passing by, the magnificent view of the Samana bridge and you may be lucky to see a humpback whale or dolphins jumping in the distance. You have different options of bars and restaurants to choose from in the surroundings.
Cayacoa Beach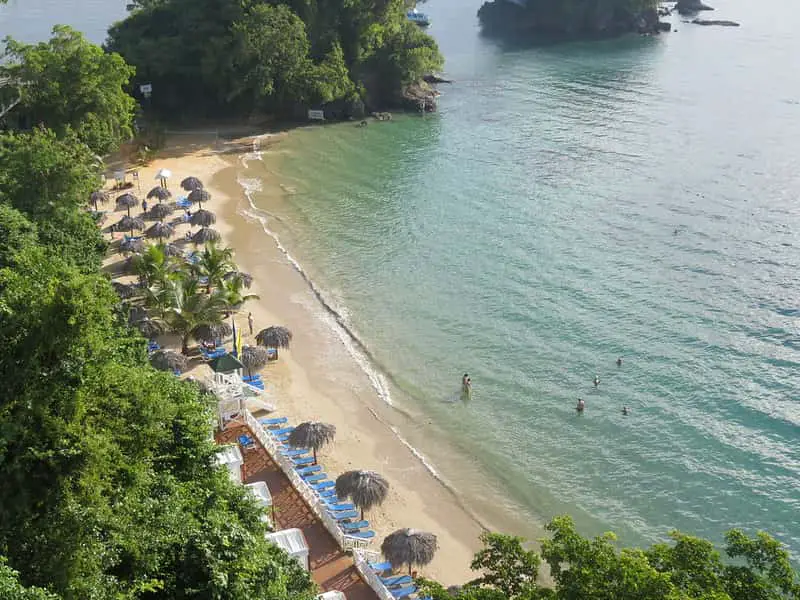 This is a quiet beach next to the Samana bridge. An ideal place to hang out with family or friends, since the water is calm. The Grand Bahia Principe Cayacoa Resort is quite close and there is also a tour and boat excursion office.
Cayacoa Bridge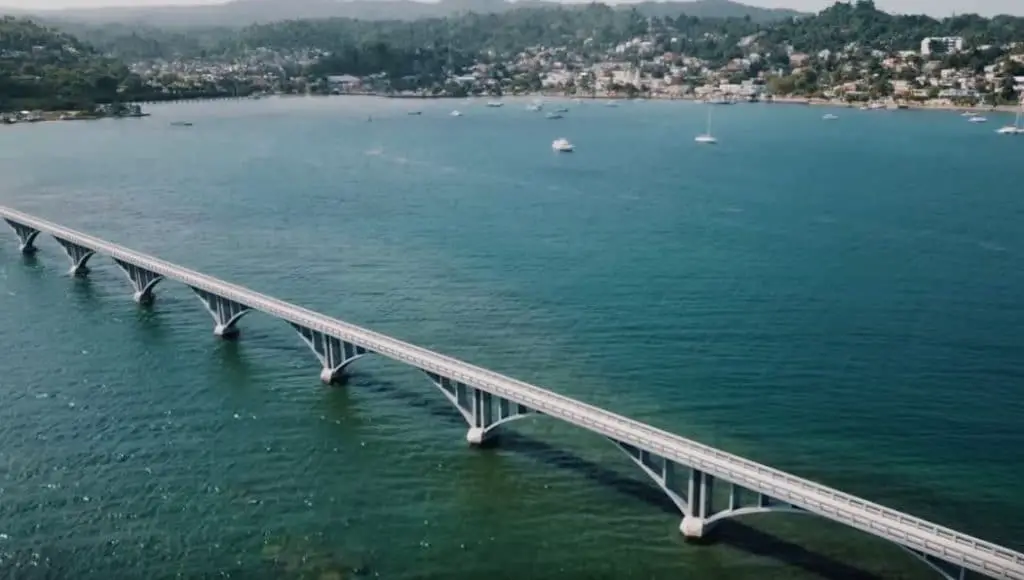 A postcard from Samaná if you don't have a photo of its beaches, you have one of the Cayos Bridge. At the entrance of the town, there is the Bahía Príncipe Cayacoa hotel. Located at a considerable height, it allows you to capture photographs of the enchanting landscape and make various shots of the Cayos Bridge. The hotel goes straight up and Dominican products, paintings, and handicrafts are purchased from vendors who are stationed at the foot of the viaduct almost 1 kilometer long.
Cayo Levantado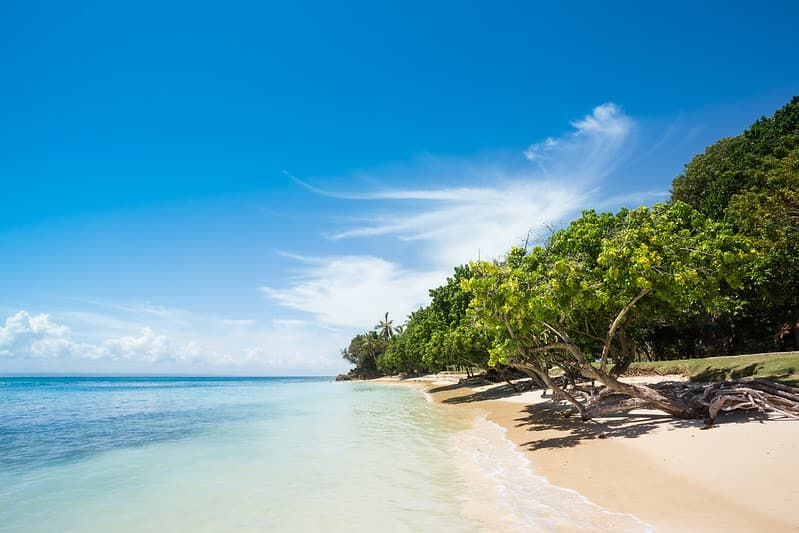 Until before sunset you can go to Cayo Levantado, also called Bacardi Island. On the way (25 minutes) the look is cleared through the greenery of the adjacent keys, although, in the water, some plastic bottles appear as a product of people without conscience. But everything changes when the boat arrives on the mainland, and a large key lined with white sand and turquoise waters appears: that is the welcome to Cayo Levantado. The islet can be walked in about 15 minutes. There is the Luxury Bahia Principe Cayo Levantado, a luxury hotel.
Humpback Whale Watching
The main tourist attraction in Samaná is whale watching. Although you can do it from some viewpoints in the city, the best option is to sail in a boat dedicated to whale watching tourism in a responsible way. That is, these boats must follow rules about the time they can be near humpback whales and even the distance they must keep.
This is an example of how tourism can be done by observing animals in freedom, unlike seeing them in an enclosure or killing them to obtain certain products. In the end, it is even better for the local economy to keep them free and protected.
Whale museum
Because humpback whales usually come every year between January and April, there was a need to report this animal. So that sustainability and good habits are promoted for the preservation of its ecosystem and the protection of these mammals.
In the small museum, there are several exhibitions of cetaceans, which can be accompanied by a guided tour to deepen the theme. Open from Monday to Friday from 9 a.m. to 3 p.m.
The valle beach
From March to November it is important to be careful on the beach since it is the nesting season of the turtles. Therefore, we must avoid passing vehicles to the beach so that no nest is broken. Nor should we scare the turtles, so that they continue choosing to come to these beaches to lay their eggs.
Near the beach is the Lulu waterfall. After doing some hiking and crossing a suspension bridge, you arrive at a beautiful waterfall. If you are looking for adrenaline you can climb the rocks and jump into the water swinging with a rope.
From March to November it is important to be careful on the beach since it is the nesting season of the turtles. Therefore, we must avoid passing vehicles to the beach so that no nest is broken. Nor should we scare the turtles, so that they continue choosing to come to these beaches to lay their eggs.
Near the beach is the Lulu waterfall. After doing some hiking and crossing a suspension bridge, you arrive at a beautiful waterfall. If you are looking for adrenaline you can climb the rocks and jump into the water swinging with a rope.
Bonita Beach
Playa Bonita, located in the town of Las Terrenas, is considered one of the most beautiful beaches of the Samana peninsula, on this beach you can appreciate its magnificent turquoise blue color, white sand and its beautiful surroundings surrounded by palm trees.
Las Galeras
Las Galeras is a beautiful fishing village located about 25 kilometers from the city of Samana, northwest of the Samana peninsula where the tradition of offering typical food from the coastal huts is still alive. Las Galeras is the area of ​​greatest tourist influx in recent years, where you can find beaches as paradisiacal as Rincon Beach, Madame Beach and Colorado Beach.
Although you can also find other more hidden and less known beaches with tremendous charm. Some locals say that this is the most beautiful place in the Republic. So far, it has been protected from mass tourism, becoming a virgin and a very pleasant place.
Samaná diving and snorkeling
The beaches of Samana are magnificent for exploring underwater life, full of coral reefs, impressive rock formations, drop off and shipwrecks. In both Las Terrenas and Las Galeras, Los Cacaos and Samana many companies offer diving, photography, and equipment rental services. If you wish, you can hire a training course with qualified instructors.
You can also make a moderate snorkel on your own on some beaches such as El Rincón, Las Terrenas and especially in Cayo Levantado, one of the favorite places of divers.
Las Terrenas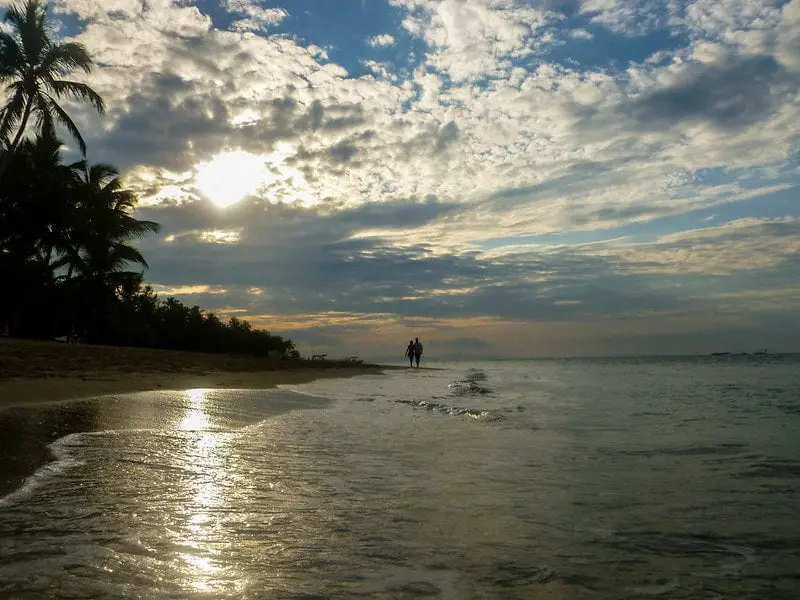 Located 45 minutes from the city of Samana we find Las Terrenas. Las Terrenas discovers a magical strip of more than 15 kilometers of virgin beaches and white sand. It has more than 40 international restaurants, with many options to choose the form of transport and with a great variety to practice sports such as golf, diving, snorkeling, diving or tennis.
In Las Terrenas, there is the Bay of Playa Bonita, one of the most beautiful beaches of the Samana peninsula, which next to Cobón Beach is, without a doubt, the best in the area. Nearby you can enjoy the beautiful and amazing island of Cayo Levantado, an island of just 1 square kilometer and with an unusual charm.
If you are staying in the city of Samana, we recommend you rent a car or a jeep and move to this area to contemplate its natural charms.
Fronton Beach
Playa Frontón is located in the town of Las Galeras, and is considered one of the best beaches in the Dominican Republic, with crystal clear turquoise waters and surrounded by beautiful natural landscapes. Reaching it is somewhat complicated by the lushness of the area.
It can be accessed on foot (at least two hours walking) or by boat. Many natives will offer you the possibility of taking you by boat to observe both Frontón Beach and Rincon Beach. Evaluate the offer you are made, compare with others and decide if it's worth it.
It is a fantastic beach for snorkeling, both for the variety of fish in the area and for the clarity of its waters, as well as having a water temperature close to 30º, ideal for snorkeling.