Playa Blanca Restaurant at Punta Cana, Architectural Guide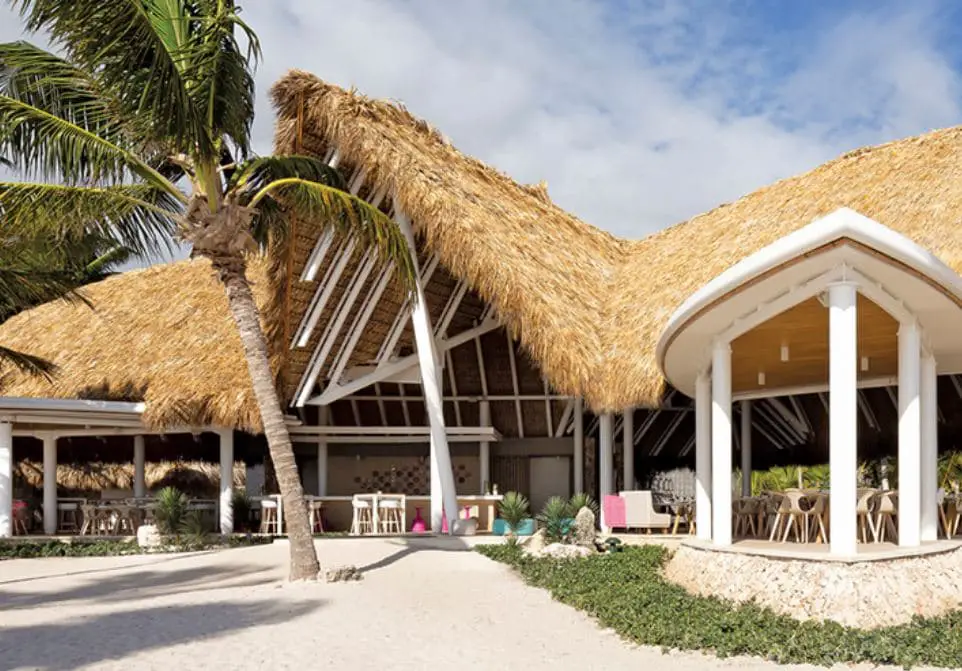 After three months of remodeling, it presents a structure with an avant-garde design, which is accompanied by traditional elements such as the cane roof. It has new environments, always open to the Caribbean Sea, whose interior design magnifies the privileged environment while providing dynamism and elegance to these spaces.
Playa Blanca, since its opening in 2009, has been the flagship beach restaurant of Punta Cana Resort.

In December 2017 there was a fire in its facilities that involved the reconstruction of the restaurant. New environments accompany the structure whose interior design – executed by Rafael Selman and Associates – combines the elegant with the rustic.
The design of the arrival to the place is maintained. The restaurant logo is placed on a wall lined with a wavy texture. From this first element the intense pink color appears. This will be the main color accent used in interior and graphic design where neutral colors predominate.
The structure's design is inspired by pieces of enameled mud from a winged fish, by artist Thimo Pimentel, who survived the fire. The intention was to combine the rustic with the contemporary in an elegant way. The structure is composed of three gable roofs, some curved and others type "nun's face". These ceilings are supported with cylindrical columns and white lacquered metal beams. For the straps, bamboo was chosen because of its great flexibility.

A novelty is the beach bar that communicates with the restaurant through a curved synthetic wood walkway. The concept of these spaces is maintained in close relationship with the exterior for their materiality and openness, always taking care of privacy.
The interior design maintains the same architectural design concept of contrast between the typical and rustic with the contemporary and elegant. The pieces of furniture are elegant and stylized. Neutral tones are chosen with selected pieces with accents of intense pink, which refer to the restaurant logo, and turquoise blue, about the typical color of the Punta Cana Sea. Different styles have been selected with the idea of ​​creating different environments within from the same restaurant.
The wooden floor brings warmth to the environment. It also includes coral stone, typical material of the area, for covering some walls.
On the beach, an atmosphere with intense pink PVC chairs has been created, a modern interpretation of the traditional wooden armchairs of the "lazy" type. These chairs are accompanied with white PVC tables of contemporary design.

Playa Blanca Restaurant Menu
Maybe the image is not in the best resolution, but at least you can appreciate the prices to get an estimated idea.