Hard Rock Riviera Maya Vs Hard Rock Punta Cana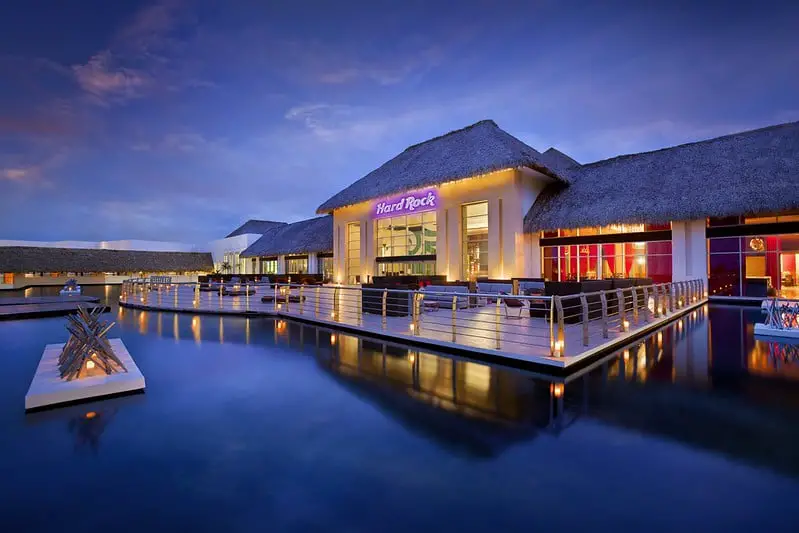 Punta Cana in the Dominican Republic and Riviera Maya in Mexico, are two places with a great tourist boom in the Caribbean, both places have a wide variety of all-inclusive hotels of different high categories.
Among these hotels is the Hard Rock Hotel, a company specialized in marketing luxury resorts in Mexico and the Caribbean, and whose properties are operated by RCD Resorts under licensing agreements with Hard Rock International.
If you are planning to visit one of these two destinations, the Hard Rock Hotel is highly recommended for all its attributes as a luxury hotel, but if you have to decide between one of the two destinations, which one should be chosen.
Although both hotels are built by the same hotel chain, there are actually favorable and unfavorable features that make a big difference between the two.
On this topic, I will address basic aspects of both hotels, including pros and cons.
Hard Rock Hotel Riviera Maya basic features
Hard Rock Hotel Riviera Maya is on the shores of the Caribbean Sea, with private beach access and 1,264 luxurious rooms with hydromassage baths. Boutiques, "rock star" style, large indoor and outdoor pools, are some of the characteristic attributes of the brand. The hotel also has a Rock Star Suite, designed by the singer Bret Michaels.
The installations of this Caribbean complex are completed with nine restaurants, eight bars and lounges, and space of nearly 90,000 square meters destined to host events, conventions and celebrations of all kinds.
The resort provides entertainment alternatives focused on young people, with a Little Big Club from HIT Entertainment, a Lounge & Club for teenagers, as well as snorkeling and kayaking activities.
For the adult public, a section is reserved within the resort called "Heaven", which includes the Hard Rock Spa, with 75 treatment cabins, four specialty restaurants, three lounge bars and the Heaven nightclub.
Hard Rock Hotels & Casino Punta Cana Maya basic features
The Hard Rock Hotel Punta Cana is one of the most recent examples of this global expansion and everything about it is a dizzying dance of numbers: 1,700 rooms, 10 restaurants, 13 pools, 49 hectares of land, 44,993 p2 of the casino, 23 bars, and a large staff, almost one employee per client.
Such an immense area is connected by a network of golf carts and a small train, with signposted stops, which leads to all corners.
The rooms and suites, of different categories, are located in the different buildings of the complex, connected by a network of corridors and lifts with views of the pools and gardens.
They all have private balconies, hydromassage baths and a huge LCD screen with multiple TV and music channels, ranging from the 775 p2 of the basic room to the 7,739 p2 of the most sumptuous suites. The ideal place to feel like a real rock star for a few days.
The structure of HR Punta Cana is much more impressive and striking than that of HR Riviera Maya, the decoration and formal composition of the spaces is truly a unique and dazzling visual experience. The Hard Rock Punta Cana has the Casino, which does not have the Riviera Maya, an impressive structure in the style of Las Vegas in the United States.
In Punta Cana, you can find a suit by Elton John, the glove by Michael Jackson, a guitar by Kiss, the drums by Guns'N Roses or a dress by Gloria Stefan among the hundreds of objects for the joy of their fans.


Between the differences of both hotels the first thing that jumps out is the difference in size, the Hard Rock hotel in Punta Cana is immense, it has a significant difference in size compared to the Hard Rock hotel in Riviera Maya, it also has more rooms, although really "bigger" does not necessarily mean "better".
Hard Rock Punta Cana having big dimensions could make it difficult for you to move from one place to another, although honestly, this is not a significant problem because the design of the hotel spaces corresponds to excellent planning where the spaces communicate efficiently with each other.
Of all the comments I've read and heard about both hotels, the cleanliness and organization in the rooms at HR Riviera Maya stand out significantly, I'm not saying that HR Punta Cana is the opposite, but I really noticed some appreciation in this aspect in the Riviera Maya.
From all the offers I saw online I could see that HR Riviera Maya is significantly more expensive than HR Punta Cana, although the cost/quality ratio in both hotels is totally worth it.
One disadvantage of Hard Rock Punta Cana, although the rooms are spectacular, don't expect them all to have ocean views Unless it's a Presidential Suite, the Presidential Suite is right on the waterfront, but then you have the beach and then the pools and the buildings, so even the Presidential Suite, if you're on the first floor, may not have an ocean view.
As for the number of restaurants, both hotels have practically the same amount, HR Riviera Maya has 9 restaurants and bars while HR Punta Cana has 10 restaurants and 4 bars, being the hotel in Riviera Maya is significantly smaller in terms of overall size.
This means that it has an apparent advantage in terms of availability of restaurants, as it has fewer rooms and more restaurants available, as well as bars, although really the bars and rest in HR Punta Cana are immense, in this case the number of bars and cattle compensated in size.
In both hotels, the quality and variety of the food is exceptionally good, but the food on the Riviera Maya is remarkable. Both hotels are family-friendly, as they have childcare.

HR Punta Cana has a greater variety of outdoor pools, you may not repeat a pool in two weeks, while HR Riviera Maya only has 2 pools, this number of pools is balanced according to the number of rooms.
As for the beaches, HR Punta Cana is located in Playa Macao, a spectacular beach of the best value in Punta Cana, white sand, and turquoise water, very clean and free of seaweed. The only thing against it is that this beach is known to have a little more swell than the others, nothing that can compromise your safety.
On the other hand, HR Riviera Maya also has a spectacular beach, located in Playa del Carmen, with incredible areas for snorkeling, on the negative side, this beach is susceptible to the accumulation of seaweed, although this is already a recurring problem throughout the Caribbean and hotels do a great job of cleaning.
Un punto en contra de HR Riviera Maya se trata sobre la excursiones y los mosquitos, según muchos comentarios de usuarios, en HR Riviera Maya la cantidad de mosquitos que se pueden encontrar en las excursiones puede ser abrumadora en comparación con lo que se pueda encontrar en excursiones en Punta Cana.
In terms of service according to a lot of opinions and comments from travelers,, HR Riviera Maya has a better service, according to hundreds of comments I have read about it, besides knowing first hand the customer service here in my country.
I had already talked about it in another topic related to the comparison of Punta Cana and Riviera Maya, simply in the Dominican Republic, it is something cultural not to know how to provide good customer service, obviously.
It is unfair to generalize, but it is a very recurrent and real situation, it is a matter of professionalism because even to serve you need to have technique and preparation.
If you are planning to visit Punta Cana, I hope these opinions do not discourage you, you will meet wonderful and adorable people with really unique personalities.