Downtown Mall Punta Cana illustrated Architectural Guide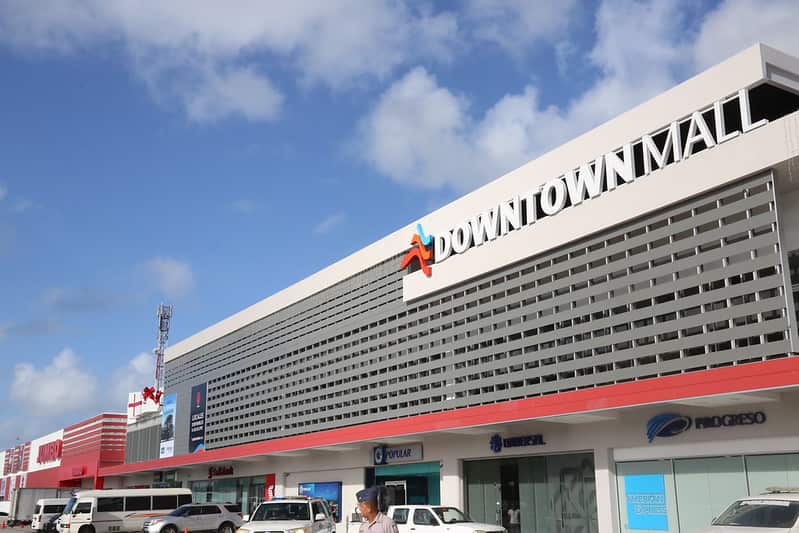 Downtown Mall Punta Cana is a commercial plaza oriented mainly to the offer of services that contributes to the consolidation of Downtown Punta Cana as a commercial and entertainment center in the thriving Bávaro – Punta Cana destination.
Faithful expression of contemporary commercial architecture, the design lends attention to both the architectural and construction details in the interior spaces and the formal exterior expression, based on the geometric composition of plans and volumes, the color and the use of innovative materials that provide aesthetic value.
The Downtown Punta Cana shopping center is strategically located at the intersection of the East Tourist Boulevard and Barceló Avenue, a mandatory step for the communities of Verón, Bávaro, Friusa, El Cortecotp and all the hotels in the area.
The architectural project consists of a three-level commercial gallery with 60 stores of approximately 80 m2, a hypermarket that functions as an anchor store, a surf club, and a gym.
The planimetry is characterized by the layout of the premises on a longitudinal axis, responding to the concept of the traditional street, with shops on both sides.
The prefabricated concrete structure of double T beams allows obtaining wide lights, an important aspect of this type of project that contributes to giving more functional and flexible spatial responses.
An expansion board makes it possible to differentiate two volumes, the hypermarket and the commercial gallery, which is evident in the two-level front facade.
Contrasting with the outside, inside the white color predominates, present in walls and ceilings. The axis of circulation is reinforced with other spatial elements, such as pavement and ceiling design.
The strategy of incorporating two entertainment venues linked to physical activity and sports such as the gym and the surf club has been successful since it has expanded the range of the mall, making it attractive to a greater number of users and connecting it with the tourist environment in which it is located.
Downtown Mall Punta Cana Floorplans
1-Entry
2-Circulation
3-Shops
4-Kiosks
5-Surf Club
6-Flowrider
7-Hypermarket
8-Terraces
9-Service area
10-Gym
11-Administration